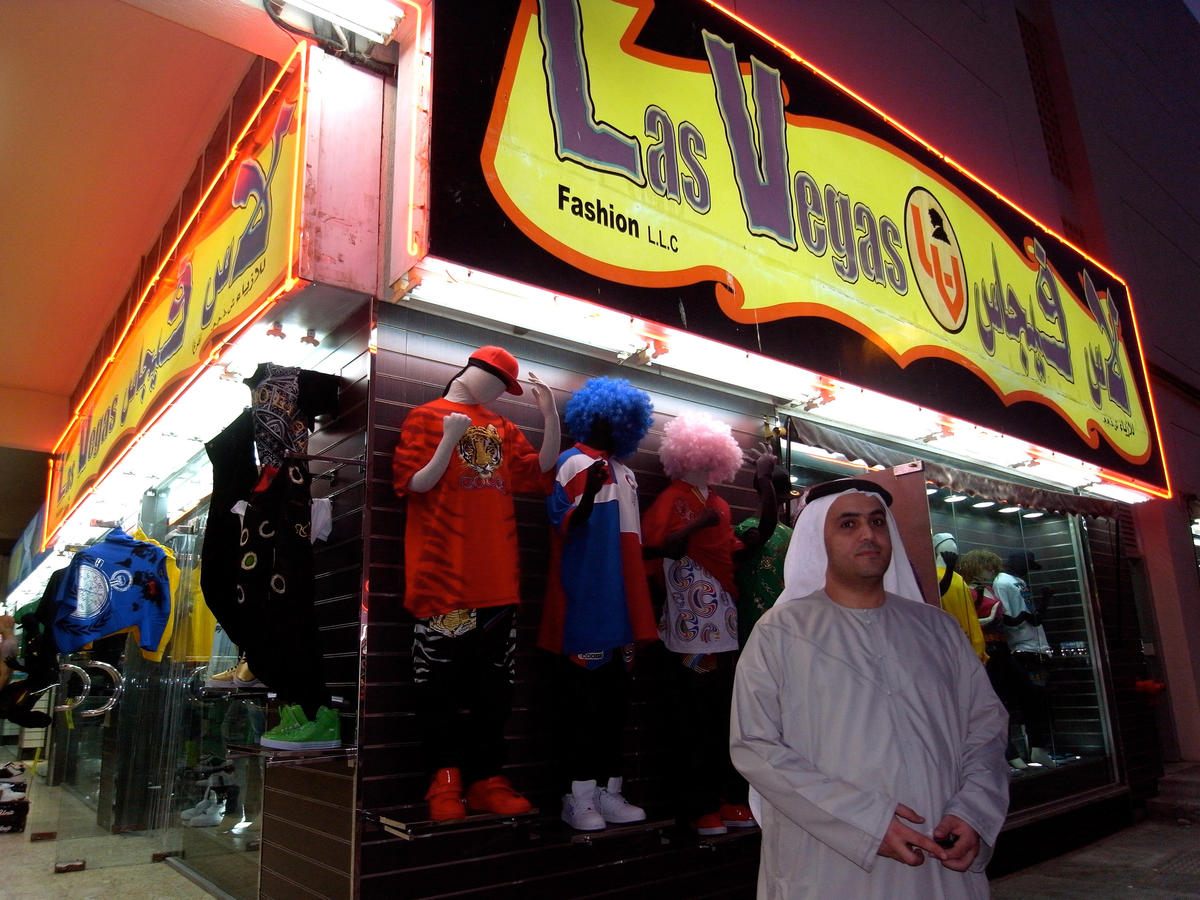 In Dubai, land of improbable architecture, many of the most remarkable buildings are shopping malls. There is the Ibn Battuta Mall, with its themed pavilions, all the glories of the Silk Road under one colossal roof. There is a gold souk, a spice souk, a fish souk. There is the Mall of the Emirates, with the gigantic silver refrigerator that shoots out of it like a surfboard, home of the Dubai ski lodge.
And then there is the Indian mall in Karama, a sprawling, semi-enclosed cavalcade of trinkets, gewgaws, and clothes, many of them made in China to approximate the latest styles in New York. Most of the merchants here are South Asian.
The choicest real estate at the Indian mall is held by a hip-hop clothing store called Las Vegas. Which, after you've spent any time in Dubai, seems to make perfect sense. Adham Alshorafa is the lord of Las Vegas.
---
I started in 1992 as a wholesaler. Back then, we were buying from factories in the United Arab Emirates. Eventually we opened the shop. By now we have six, five here in Karama and one over in Oud Metha — though that location only sells slippers to locals. Every two years we open a new branch. We were the first people to sell hip-hop clothing in the Emirates. Here in Dubai, we have more links to America, whereas places like Lebanon and Turkey link more to Europe.
All kinds of people shop at our stores. All nationalities. But mostly young people. We are working with the sixteen to twenty-five group, men and women. We have Americans, Europeans, Kuwaitis, Egyptians. Mostly they are big people who are looking for this kind of clothing. We carry up to size 6XLarge. You know, normally large people would not wear something really tight. They would always wear something big — dark colored, not light colored. So for example, even though I am 2XLarge, I would wear 3 or 4XLarge, to show that. That's the style. I used to wear my own stuff when I was younger, but not anymore. I wear dishdasha to work, jeans and T-shirt on the weekends.
I do love hip-hop. Jay-Z is my favorite artist. You know, we are the exclusive agent for his brand Rocawear in the UAE. If I ever open a store at the Dubai mall, they say he will come and open it himself.
Why Las Vegas? Actually, I was on a visit to Las Vegas, in America, and I just loved the life and the crowd, the atmosphere, the people who aren't sleeping. I woke up at 6, 7 o'clock at night. I loved the colors, the lights. And then I thought, we should have the same crowd back in Dubai. And that's Las Vegas.
Business is good. The recession hasn't hurt us at all. Zero. Because the age I'm dealing with? They are really used to getting money from their parents. So they don't care about how much they're spending, they don't care if there's a recession. On the weekend, a guy wants to wear his outfit to show his girlfriend that he's got money, that he's wearing new stuff. We just keep going. I still have a good name on the market.
We do have competition. There is a shop called New York that is similar. It's run by my cousin. He worked for me for three years and then opened New York. If it was someone else I'd shut them down — just cut prices at all of my stores until he had to close his business. But, he is my cousin and my sister's cousin as well. At the end of the day, my brother is there, my father is there, my sister is there. Everybody is watching what's going on. But still my name is number one. I'm very old in this business. I have my own contacts, suppliers. We have our own style.
These days most of our product comes from China… Thailand… Cyprus… Hong Kong… Turkey. We do our own designs. I'm a designer. So I can do our own designs for hip-hop wear, and they'll make it to order for us in China. It's not so hard to figure out what people want to wear. If you pay attention to people in this age-range — they are going to the beach, to house parties, to clubs. We watch what is happening in the States, and then we copy it and paste it over. It's very easy for people in that age group to spend money. Very easy. People come by every few days asking what is new, what's the latest. Boys and girls.
The clothing is a little less hip-hop now than it used to be. More street wear. Hip-hop itself is a bit slower than before. And our demographic is heading upward. I don't think you're going to see someone over twenty-five wearing a hip-hop t-shirt. Unless you're Jay-Z.