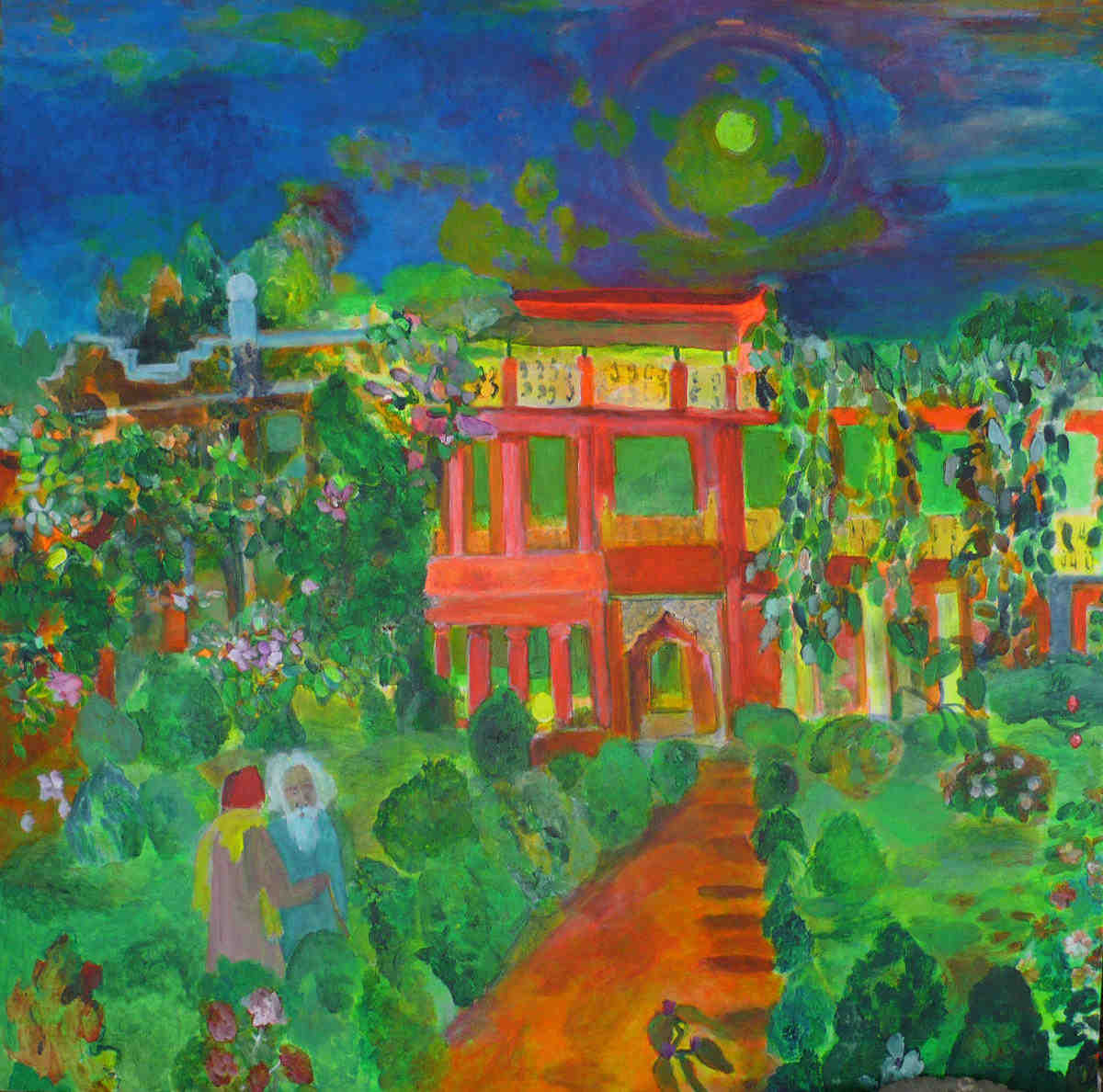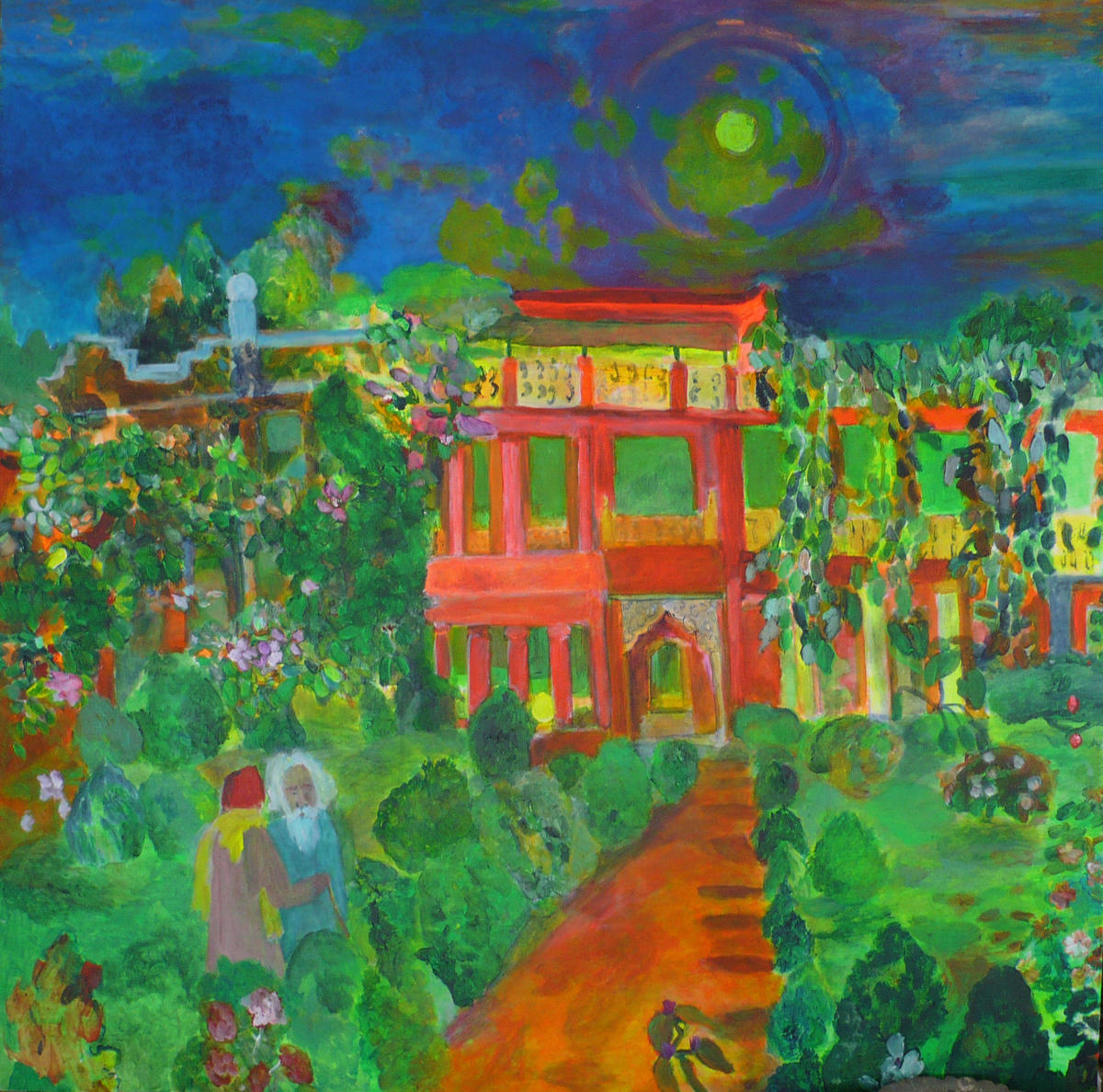 Cairo
Anna Boghiguian
Safar Khan Gallery
April 23–May 23, 2008
On principle, I should hate Anna Boghiguian's work. Dervishes, Indian poets, expatriate Alexandrians from the golden age of cosmopolitanism, mysticism and a fascination with the more picturesque and exotic aspects of popular life have never really been my cup of tea. It is therefore perhaps surprising that on the contrary, since I was first introduced to her work during my childhood, I have always been struck by its vibrant intensity.
Unfortunately, her latest solo exhibition at Zamalek gallery Safar Khan was a more uneven affair than usual. Although Safar Khan is one of Cairo's older and better-known galleries — a commercial venue mostly focused on the lucrative trade in twentieth-century Egyptian modernists — it is a cramped, pretentiously decorated space that rarely does justice to the works on display.
The uneven tone arose from the puzzling mix of older and newer works and the sudden shifts in size and material, from small charcoal drawings to large oil paintings. The marked difference in tenor from piece to piece lent the show a feeling of unintentional randomness. Fauvist flower paintings sat next to brutalist urban sketches. The variation generally managed to diffuse rather than enhance the overall charge of the exhibition.
Boghiguian is in the special position of being respected as an artist by most of Cairo's art world, spanning generations, trends, and political affiliations — an achievement in itself. And Boghiguian has managed, over the years, to develop her own unique and highly recognizable world. What one finds truly surprising is her ability to tackle such chic and kitsch subjects as the moulid, peasants, and historical sites, while still retaining a bold sense of urgency and immediacy.
Boghiguian's charcoal smudges and her jagged brushstrokes and skill at using color as pattern, field, and source of illumination, give her work a luminescence and a sovereignty that is truly remarkable. Her focus on details and simultaneous refusal to fall into naive realism creates a hallucinatory quality correlative to the painter's subjective vision of the observed world. We experience a sense of engagement (rather than fascination) that renders what could have been merely exotic into a highly personal language.
Boghiguian has always possessed an intuitive understanding of the cultural and historical significance of spaces (one suspects that her study of various literary sources, from Cavafy to Mahfouz, has served her well). Whether she's tackling historical visionary subjects from Egypt and India (a country she has visited many times over the decades), poets such as Rabindranath Tagore and Ahmed Shawqi, or presenting a series of landscapes inhabited by ancient buildings, her paintings are always able to communicate something of that accrued weight and significance.
The background is usually flattened, only to highlight the busy interaction between the elements that compose the whole. Although these are vistas that manage to go beyond the simple Orientalist gaze, it's important to remember that Boghiguian, an Armenian Egyptian, has a strong connection to the tradition of the traveler-artist that has informed her practice since at least the 1970s. This gives stronger works a sense of restlessness and curiosity, while weaker ones tend to fall into the traveler's familiar traps: fascination, voyeurism, and nostalgia.
A postimpressionist sensibility — much indebted, it seems, to the likes of Henri Matisse and Marc Chagall — at times veers dangerously close to the saccharine but is balanced by the more brutal and untamed charcoal drawings. Her interest in contemporary urban life (Cairo's Hidden Scissors, one of Boghiguian's most powerful series, consists of drawings in which the streets are literally populated by scissors) and the immediacy of capturing the action provides a counterweight to the meditative tendency of the larger oil paintings.
Charcoal's pliant and flexible nature allows Boghiguian a physicality that translates well. The scratches and marks left on the paper seem to document a bitter struggle among the observer, the observed, and the medium. Oil seems to be the right medium for landscapes where the sky is solid. Here, equally thick and viscous under the burning sun, lie the ruins of ancient civilizations as well as the chaotic lived-in cities of today.
A great strength of Boghiguian is her ability to load historical landscapes and portraits with an implicit charge that is directly linked to their sense of solitude and isolation. This charge isn't usually expressed directly but is always latent in the work. One of her central preoccupations may be the question of belonging. Variations on The Stranger — from holy fool to visionary leader — abound. These figures who lie outside consensus are suitable material for a meditation on the conditions of the group itself; we're never far from history and civilization in this Nietzschean world.
Unfortunately, this time around, it seemed that an interest in making the work more topical, or communicating a specific political message, betrayed the rich ambiguity of earlier works. A portrait of what seemed to be an Indian politician was populated with political graffiti (on the order of "Fight Terrorism") that turned the figure into a mere conduit for the message. Gone was the ineffable and sometime painful sense of separation in favor of more sentimental melancholy.