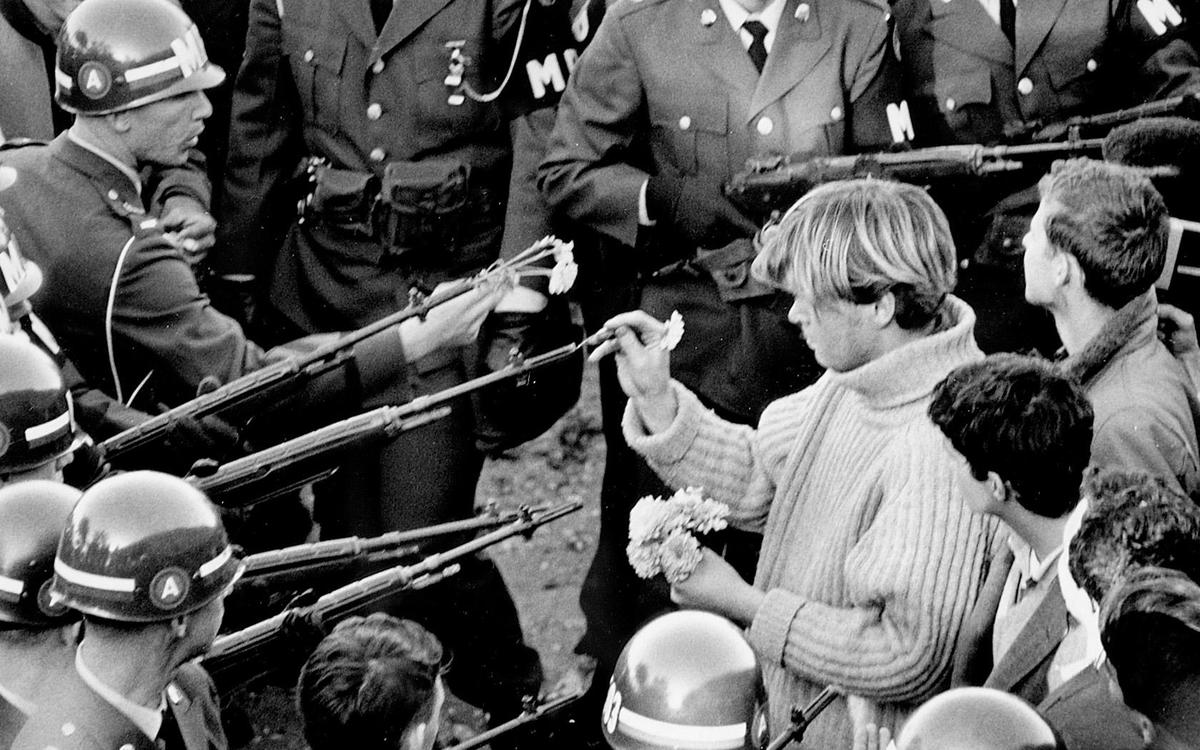 It is said that arrows fired at the Buddha fell to his feet as flowers.

On October 21, 1967, the French photographer Marc Riboud took a series of photographs of a Vietnam War protestor in front of the Pentagon. A seventeen-year-old girl in a flowery chemise, heavy-jawed, Beatle-haired, is seen in profile facing left. In one shot, she stretches her arms out, at once flirtatious and Christ-like, a flower just visible in her right hand. In another shot, the iconic one, she holds the flower before her mouth. It's a large white daisy, or perhaps a carnation. She faces a stolid line of helmeted soldiers, rifles at the ready. The bayonets, sheathed, seem to line up one behind the other, like shadows of each other.
Later, Jan Rose Kasmir moved to Denmark, had a daughter, and became a massage therapist. She recalled of that day, "All of a sudden, I realized 'them' was that soldier in front of me — a human being I could just as easily have been going out on a date with. It wasn't a war machine, it was just a bunch of guys."
"I was a good heart trying to follow the light," she said. "None of this was planned."
On the same day, Bernie Boston, an American photographer for Life magazine, took a single black-and-white shot of a Vietnam War protestor, also in front of the Pentagon. In the Pulitzernominated photo, "Flower Power," a young man gently inserts the stem of a flower into the barrel of a gun whose bearer stands just beyond the frame. Another soldier reaches out to finger the flowers already dangling from the end of his gun. It's unclear from this soldier's expression whether he is trying to remove the flowers or to fix them or just to touch them to see if they're real. As for the eighteen-year-old protester, his profile reveals nothing but intent, his seriousness at once heightened and undermined by his bulky ribbed turtleneck sweater.
Later, George Harris grew a beard and named himself Hibiscus. He moved out west, joined a commune called KaliFlower, and started the Cockettes, a psychedelic drag performance troupe. He died of AIDS in 1982.
In 1999, Odile Lobadowsky, president of Kenzo Parfums, decided to create a scent based on Riboud's picture: "a flower stronger than a gun." As maestro perfumer Alberto Morillas concocted the fragrance, the concept was refined: a red flower in the city, growing against a backdrop of skyscrapers and asphalt, both delicate and resilient. Kenzo introduced it in 2000 as Flower, a reminder that the autumnal day at the Pentagon three-plus decades earlier must have had a smell. Flower's glass bottle is slender as a rifle barrel, but curved and yielding, a long-stemmed poppy seeming to float inside it. It's so tall that stores have to display it lying on its side. The perfume smells like no particular flower and like every flower in the world combined. The marketing materials read, "No one plants or chooses me. I simply grow."

The gun is an invention, designed to conform to the human hand, made of honed wood and forged steel. A signifier of violence, an emblem of power and control. Irrevocable. A flower is a natural thing, perishable and pliant, alive in the moment. A gift. Something beyond vulnerable, because why would you hurt it?
The flower in the gun is disarming; it makes the gun a vase of sorts. An absurd, earnest, melodramatic gesture. A plea to the universe. The universe. An excuse not to fire.
There is always a gun. Be the flower.