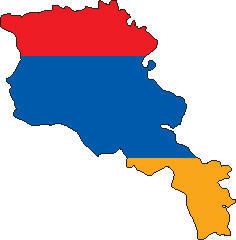 Vigen is the "Sultan of Pop."
Vigene "Popi Sultanna."
Oh, just like in Tslibisi!
Ara vonts vor Tiflisum lini.
I really liked that movie about Armenia.
Hayastani masin en kinon dzets indz.
What was the name of that church again?
Ed yekexetsu anune inch er?
We are big fans of Cher. Cherylin Sarkissian! Who knew?
Menq Sherin shat enq sirum lsel. Sherlin Sargsyan! Ov gidi?
When in doubt, blame Turkey.
Hents hents problem unes Turqiayin qftrti.
I'm sick of Glendale. Where's Beverly Hills?
Glendelits arden zzvum em. Urdexa Beverli Hilze.
Who waxes your legs?
Vordex es votered trashum?
All he thinks about is money! How much do you think he has?
Inqe sax ore poxi masina mtatsum, inchqan pox uni eti qo jogelov?
Little Armenia? It's full of Thai restaurants!
Poqr Hayastan? Ara endex sax Thailandakan restoranner en!
I think they're Iranian.
Indz tvuma sranq Parsik en.
They're not really Armenian. They're from Russia.
Sranq iskakan hay chen, sranq Russastanits en.
Don't get me nervous!
Indz mi nervaynatsra!
Grandpa ate madzoon every day, that's why he looked so good when he died.
Papes amen or matsun er utum dra hamar el tents karqin tesq uner merneluts.
Go ahead, eat some more! Yalanchi is good for your skin.
Qashi mi qich el ker, Yalanchin lava mashkid hamar.
Everything she cooks is no good.
Inqe inch epuma hamov chi.
She had her nose fixed — she looks ridiculous.
Inqe qite operatsiaya arel u hima anchorni tesq uni.
Nobody makes good souboreg anymore.
El vochmek lav souboreg chi karum sarqi.
I went to school with Kirk Kerkorian.
Yes u Qirk Qirkoriane mi dasaranits enq exel.
If you don't eat, you'll get sick.
Yete hats chutes sirtd kxarni.