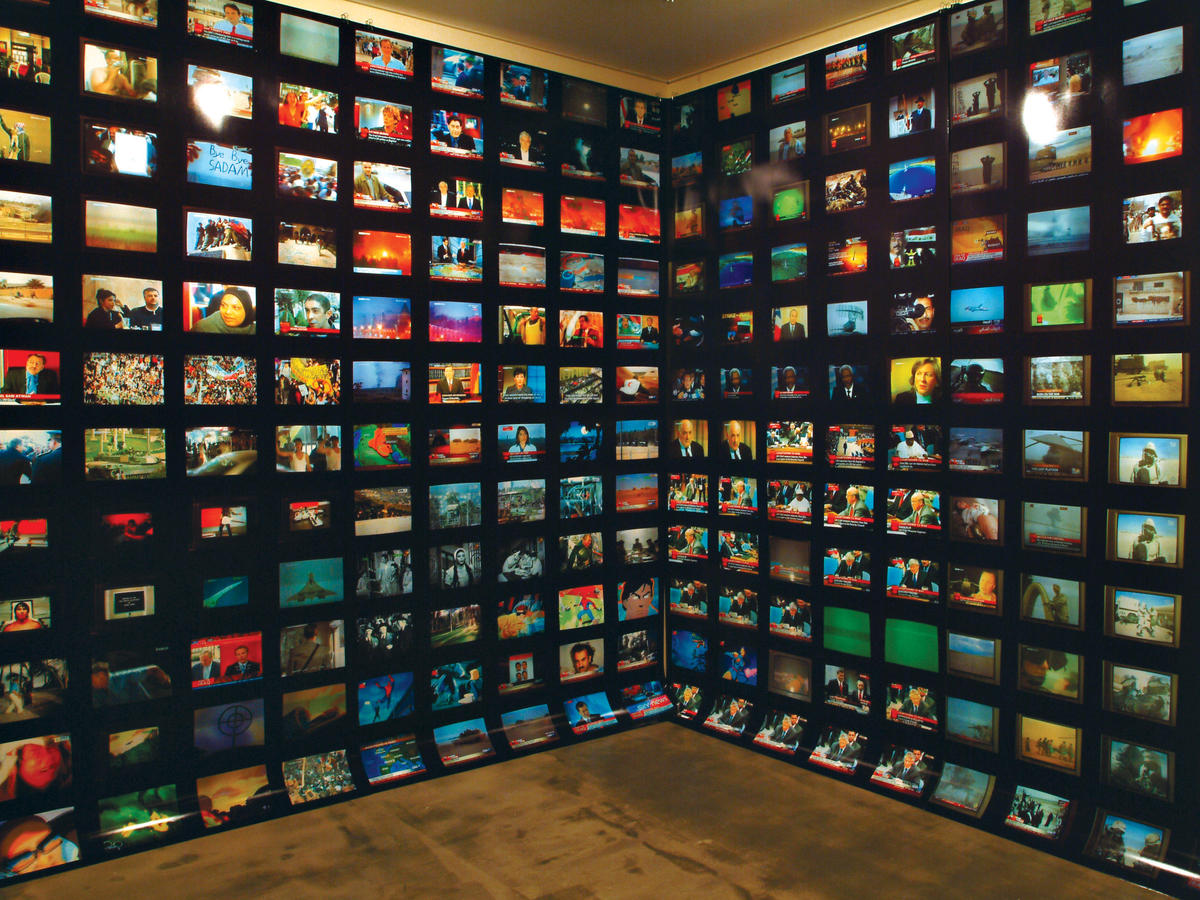 Attempting to describe the work of Tarek Al-Ghoussein is turning out to be a futile endeavor on my part: No matter how I look at this work, I immediately link his "performance photographs" to Palestinian visual discourse on exile, displacement, the conflict, and their diverse representations in art. As a Palestinian myself, I fear that my reading is contested by my unconscious resistance as well as my emotional insistence on reading in the primordial way. Ghoussein's identity is constituted, nevertheless, on fragmented grounds, indicating that it cannot simply be re-included into that from which it has previously been excluded.
Even he would not deny the following: His composite background, his lack of direct familiarity with Palestine itself, is at the heart of the artist's work. Ghoussein was born in Kuwait. In his youth, he traveled widely with his diplomat father and family, including spells in the US, Morocco, and Japan. He studied photography at New York University and the University of New Mexico in the US, and worked as a photojournalist before turning to academia and the life of a photographic artist.
His first series of "performance photographs" were self-portraits, exhibited in the 2003 Sharjah Biennial as large light boxes, and consequently in group exhibitions in Europe and the US. During a solo show of the work in Berlin, the images were attacked — stoned, ironically — and the glass shattered, adding a layer to Ghoussein's exploration of the myth of the Arab terrorist. He has further explored the media's role in myth-making in a collaboration with Chris Kienke, The War Room, a huge display of 2000 images taken of the television coverage of the current war in Iraq. The images depicted the artist in various locations in the UAE (where Ghoussein now lives and works as a professor at the American University of Sharjah) and later in Jordan, looking out over the Dead Sea, his back turned to the camera. In each photo, his face and head are covered, his identity concealed.
Yet the fabric he uses, the kaffieh, has long stood as an icon of Palestinian resistance, and has similarly been adopted by many others as a symbol of defiance against tyranny. As such, Ghoussein's clear identification with his Palestinian roots and simultaneous denial of the self, the image, the face, reflects a certain tension between his projected identity and its unsettling relation to a specific geographical space (Palestine) and the wider context of Arab identity (the Arab world).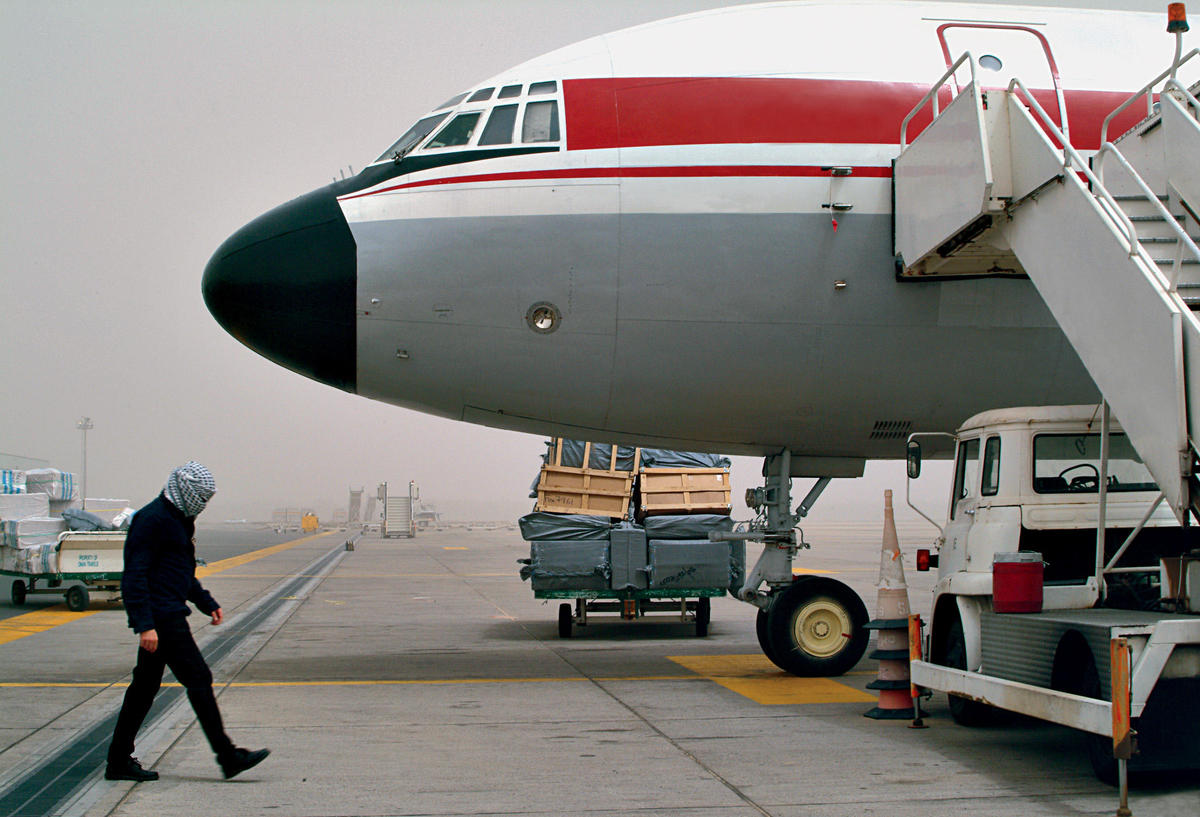 This anguish is beautifully portrayed, for example, by the artist's defeatist posture as he walks on the tarmac towards the airplane in what, at first sight, seems to allude to a hijacking or an escape, a climatic moment which is usually enacted with the last gasp of human fortitude. He seems aware that this emotion, and the repudiation of his fundamental right to have a home, creates an inherent deprivation, a dead end, which has infiltrated many of his recent works. Even though this body of work appears subdued, with the colors having faded to grays and concrete ubiquitous, here they are far more about confronting reality. No more horizons of a distant land are to be found, no mounds to climb, no tarmac to cross, no destroyed edifice to walk past and maybe beyond.
Instead, in the new series, there are walls and fences, barriers and dead ends. There are few illusions: He will not be returning to a Home.
Coincidentally, I am from Home, and where do I begin to talk about barriers and walls and fences and road blocks and dead ends? Here Ghoussein has internalized these obstacles in his work, trying to investigate their physicality and appreciate their particular aesthetics. It is as though he's marking his own bearing, his exile, with those objects/acts that are displacing thousands of Palestinians, denying them their land, home, and livelihood. Although he's experimenting in his practice with those barriers and walls that he can see, feel, and touch, still he can never experience the gravity of the situation they create on the ground.
Thus, what began with acts of masking the face, concealing the frailty and the wounds, has culminated in recent works with the removal of the self completely from the frame. He doesn't see the particularity of his individual deprivation as relevant anymore; he doesn't see himself as an important element in the composition of the image. Indeed, he has come to terms with the insignificance of his personal conflict over his identity and focuses rather, in his own words, "on the profound threats to the continued survival of many Palestinian communities." Now he can be in the frame and he can be out of the frame. He can be practically anywhere but home.