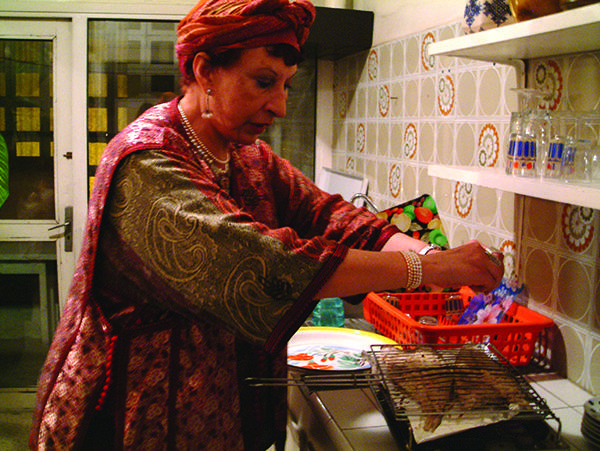 When the magical Moroccan author Fatima Mernissi agreed to provide a recipe for our cooking section, we knew it would be special. Here, she reveals the recipe for her secret aphrodisiac fish dish, Qurb, which she writes of in her book Scheherazade Goes West.
"The most difficult thing is to find the supposedly aphrodisiac fish, the qurb, in the first place. Qurb is the Arabic word for "coming closer," and ever since I first arrived in Rabat as a student, I have heard about its wonders. In my own hometown of Fez, which is three hundred kilometres from the sea, we never knew such a magical fish existed. But here, you can't get qurb easily because the whole Rabat population is always looking for it, scavenging the fish markets along the beaches that stretch towards Casablanca. To increase your chances of finding the treasure, you have to be out searching at 5 am But fortunately, at least we Rbati, or people from Rabat, don't have to compete with the three million citizens of Casablanca. The Casablanca people are like Americans: they focus on money, not sensuality."
---
Moroccan Tea
Ingredients
1 cup dried mint
1 cup green tea
3 cups water
Preparation
Bring to a boil. Add sugar; serve in small glasses with much panache.
None would be complete without including Moroccan tea, which is served constantly from morning to night.
The Moroccans use dried mint and green tea, boiled and brewed together and mixed with so much sugar you could cut through it with a knife. Feel free to mix with fresh mint, which always impresses foreigners.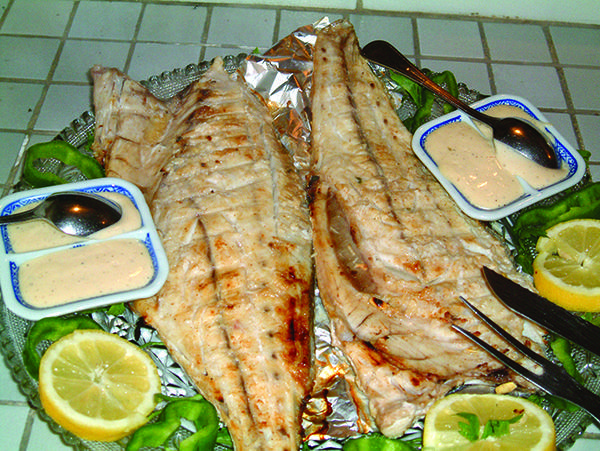 Fatima's Qurb
Ingredients
2 tbs fresh ginger, finely grated
3 cloves garlic, finely crushed
Juice of 3 lemons
1 tbs fresh coriander, finely chopped
7 tbs fine olive oil
Preparation
Macerate the two filleted halves of the qurb in all the ingredients above. Leave for at least 3 hours.
Broil the fish for 5–7 minutes on each side, sprinkling with lemon as you go along.
The most important part of the recipe, of course, is the presentation. Fatima urges us all to serve the qurb on a terrace overlooking the ocean on the fourteenth night of a lunar month, when the moon is full and round. "And," she says, as I scribble down the recipe in her warm kitchen, "speak softly."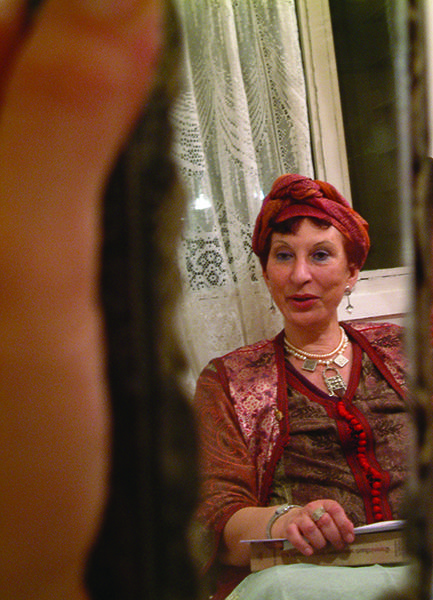 Tchoutchouka
Tchoutchouka can be served hot or cold, as a starter, or with just about everything. Make a lot — it goes fast.
Ingredients
2 pounds green peppers
2 pounds tomatoes, peeled and diced
2 sprigs parsley, chopped
2 sprigs coriander, chopped
4 cloves garlic, crushed
2tbs paprika
1 tsp hot red pepper powder
½ tsp cumin
½ tsp salt
7 tbs olive oil
Preparation
You can grill the peppers in the oven if you don't have a grill. Just put them on the racks, turning occasionally, until blackened on all sides. Then let them cool in a covered bowl for about an hour.
When they are cool, peel the skins, which will come right off. Dice.
Mix all the ingredients together and cook in a large pan over medium heat for 35 minutes, stirring frequently until the juice has been absorbed.
---
Lamb Tagine with Prunes and Apricots
Doctor Latifa Jamai is a brilliant woman. She was the first female gynecologist in Morocco, opening the doors for other women to practice. We were lucky to meet her in Rabat, and discovered that she is also an excellent cook. She happily divulged her recipe for Gynecologist's Tagine, otherwise known as Lamb Tagine with Prunes and Apricots.
Ingredients
3 pounds of lamb shoulder cut into pieces
3 large onions, finely minced
2 large cloves garlic
4 ounces butter
1 tsp ginger, finely minced
½ tsp salt
½ tsp saffron threads
3 pints of water
1 small glass of honey
1tsp cinnamon
1 bouquet of coriander, tied together with herb string
2 pounds of prunes, (dried, pitted)
1 pound of apricots (dried)
2 oz toasted sesame seeds
Preparation
Crush the saffron seeds in a mortar, making a fine powder. Cook meat, onions, garlic, butter, ginger, salt, saffron, coriander and water in a half covered pan over medium heat for 1 hour.
Add the honey, cinnamon, prunes and apricots and simmer for 20 minutes.
Serve the lamb in a round dish coated with the sauce and sprinkle with sesame seeds.
The tagine is usually served by itself, but if you are feeling extravagant, enjoy with couscous.