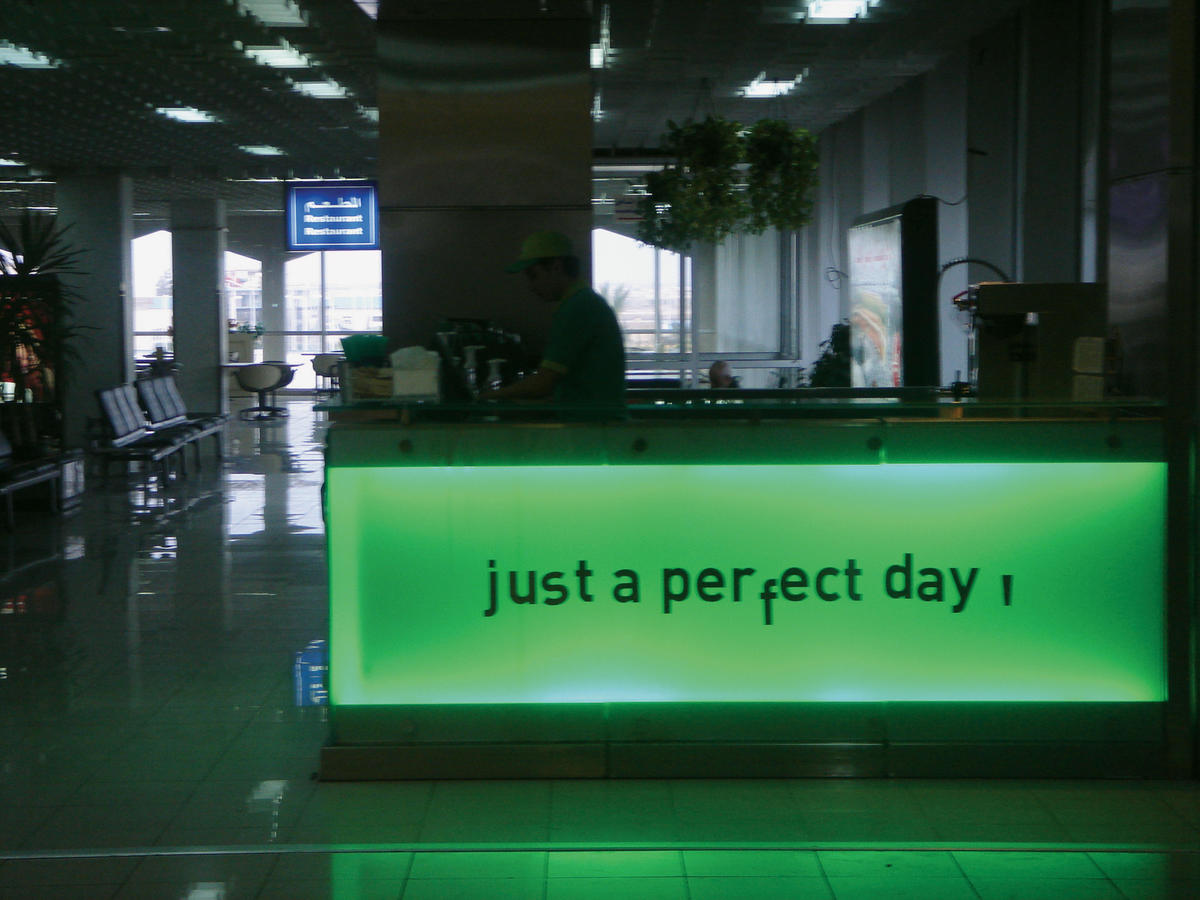 The airport experience begins on the road, a thirty minute straight burn from the city center, lights of black BMWs flashing down rickety Lada as it struggles to make it past 90. I wonder who's jetting off where as the sleek tail lights disappear slowly. It's the same every time: the same queue of old ladies in black cloth with massive suitcases wedging through the first passport check, hardly moving. The same metal detector that sounds the alarm every time anyone passes through.
The desk at which the departure tax is paid — a miserly 200 Syrian pounds, or four dollars for lucky foreigners, or twenty bucks for luckless domestics — is different. It has changed from time to time over the two years that I have been using the services of Damascus International Airport. Like many things in this country of constant flux, change can be rapid. The once tatty plastic counter is miraculously replaced with a shiny LCD-lit service center in the main foyer — only to be taken away within the month.
The old is coupled with the new everywhere you look. Moustachioed military men thumb each page of every passport, lift every stamp, and review every visa with quizzical frowns, while upstairs, in the bright duty-free shopping area, glamorous ladies advise on perfume, hand luggage or Sony Cybershots, collecting hard currency for the country's leading cousin.
"Just a perfect day" says the sign in the coffee shop: a new coffee stop, "In House," a hint of Statue of Liberty in the backing poster. It hangs in the large, Formica-shod restaurant, cobbled together sometime in the late 1970s, where a bottle of still Boukein will cost you more than a main mezze in one of the courtyard restaurants of the Old City.
Arrival is always more tense. The first time, they say, is never the best: British Airways baggage mishandling, forms to fill out, military to advise; total despair. Since then, the line of immigration officials has seemed less a hurdle. My last time through, I achieved what I thought impossible for a journalist entering Syria on a press visa: diplomatic immunity — or at least no queue of old ladies. And the only thumbs visible were pointing up.