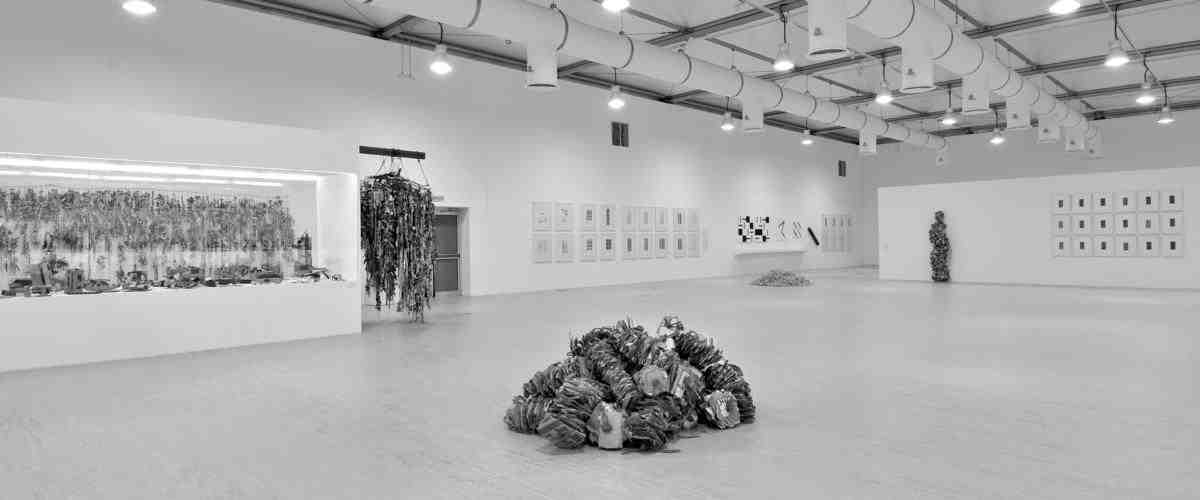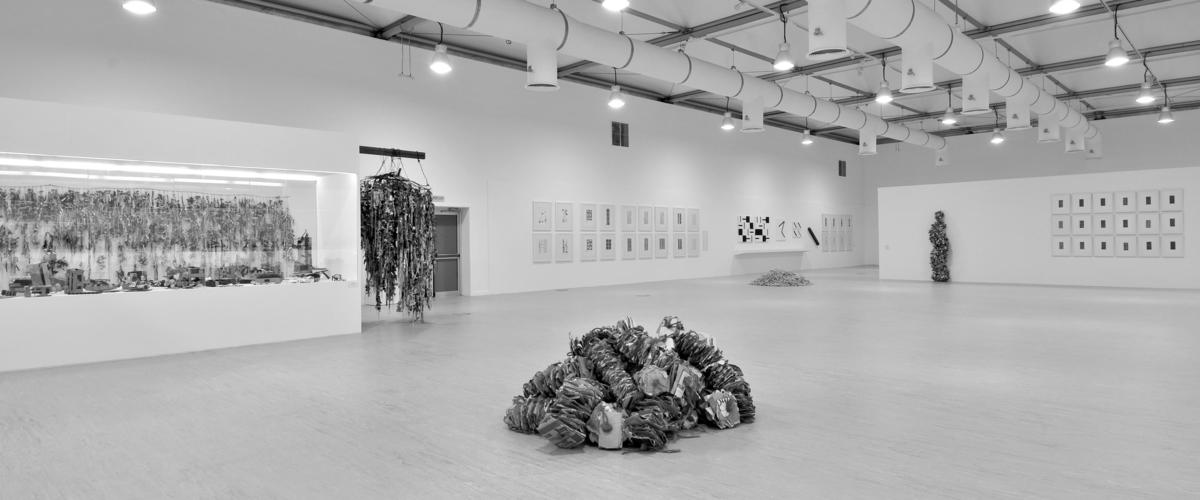 Abu Dhabi
Hassan Sharif: Experiments & Objects 1979–2011
Qasr al Hosn, Cultural Quarter Hall
March 17–June 17, 2011
So jumping in the desert — it is a very nice act, a nice thing to do. Go to the desert. Jump. And come back home. I always think, why not speech in the desert? You go to the desert, and give a very enthusiastic speech, for half an hour. And if you want more, you say more. Then you come back.
—Hassan Sharif
In the summer of 1983, home in Dubai on vacation from his studies at the Bryam Shaw School of Art in London and very much under the influence of British Constructivism, Hassan Sharif rounded up an audience of four or five friends and ventured into the heat of the Hatta desert to… jump.
Black and white photographs, preparatory notes and diagrammatic sketches, documenting "Jump No. 2" and other examples of Sharif's early adventures in body and performance art lined the far right side wall of the show Experiments & Objects 1979 — 2011. Charged with a sense of irony and improvisation, these experiments — carried out in London and Dubai between 1982 and 1984 and reconstituted on cardboard panels in 2006 — depict gestures that are fervent in their own futility: the artist undressing and descending a staircase; washing a corridor with powder soap and water; placing a pubic hair in an empty milk bottle; measuring a length of library shelves with his right foot. Sharif said back then, as he says even now: art must have no function, and yet to exist art need be deliberate.
Recuperated from the ranks of residue, these visual compositions retain the aura of performance. As objects on display, they seem to contain both the conceptual element of the art experiment and its trace in time. In my experience of the show, it was the curious moments amid the sepia tones and black inks of these whimsical works — the object-ness, here and now, of once ephemeral acts — that felt the most sublime.
This cascade of early works constituted the first half of the exhibition. Commissioned by the Abu Dhabi Authority for Culture and Heritage, and curated by Catherine David and Mohammed Kazem, Experiments and Objects 1979 – 2011 sought to celebrate Hassan Sharif for his pioneering contribution to contemporary art practice in the UAE. It was scheduled to coincide with Art Dubai and the Sharjah Biennial; a subsequent monograph was to be launched at the Venice Biennale. This retrospective may well have been overdue: Kazem, one of Sharif's key collaborator's at The Flying House, an independent artist-run space in Dubai, had been trying to organize an exhibition of comparable scope for years, and Sharif's work undoubtedly merits the attention. But this tribute to "the first contemporary artist from the Gulf" after decades of indifference was also an attempt to fill a vacuum, to claim a history, at a time when a number of institutional actors have vested interests and/or investments in cultural production in the Gulf.
On entering the other side of the exhibition hall, the monochromatic reverie burst into a blur of bright colors. The division between the "experiments," elegant in their two dimensionality, and the "objects," garish multi-colored mounds, felt as forced as the false wall that partitioned the temporary space they shared. The absence of Sharif's paintings from this schema had, in a sense, already been declared by the title of the show. This was, by all accounts, a practical decision, dictated by the limitations of the space. And yet this absence could not help but pose fundamental questions about this kind of categorization. If Sharif's experiments-in-time have since transformed themselves into objects-in-space, then what was the curatorial basis by which his paintings — equally experimental undertakings, and objects of a sort, as well — had been left out? If the exhibition strove to demonstrate the importance of order and improvisation in Sharif's contestation with form, then excluding works on the basis of such classification seemed to confound the very essence of what his practice is about.
The initial illusion of having encountered a somewhat chronological presentation was further disturbed by "Objects 1984 – 2008," scores of them, encased all together, lined up in three large vitrines, each identified by a single label. This collapsing of time set me stumbling upon a mystery that I have not yet been able so solve: What happened to the nineties? No one seems to want to say. There were barely any works, in over a hundred, that could definitively be attributed to that decade. At first I thought perhaps Sharif was painting then; but that turns out not to be the case.
And yet, Sharif's handmade sculptures are very much produced against the backdrop of the transformations that took place in the United Arab Emirates during that phase of its history. Though materially informed by the stuff of a consumerist society on speed, these objects are not, as such, critiques of present-day petro-capitalism. Instead, as compulsive, mechanical acts of art-making, which Sharif undertakes to extremes of exhaustion — which he performs to the point of pain — his works may be understood as subconscious attempts to suspend the acceleration of time, to divert, rather than oppose, the sense of haste that has engulfed the Gulf. What Sharif's "objects" share with his "experiments," then, is that while they are entirely invested in the act of their own making, they are also ultimately and playfully unproductive.