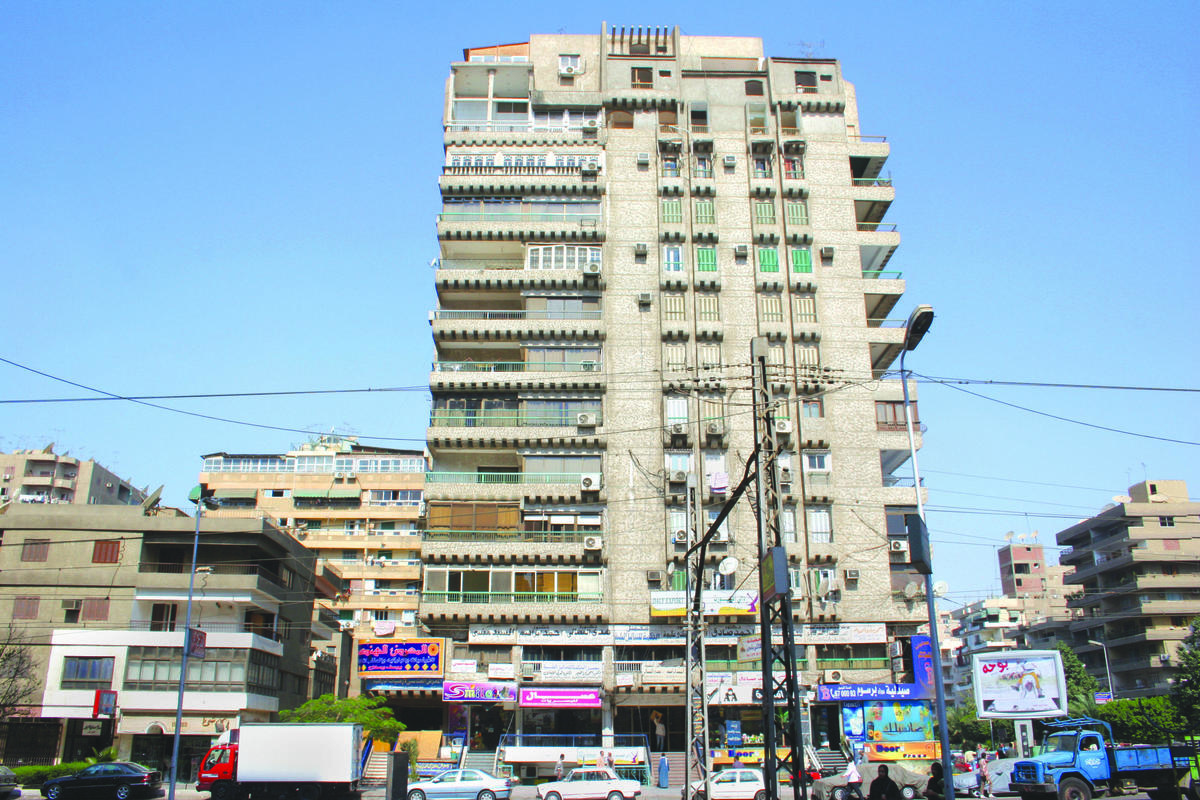 Nasr (Victory) City, or Medinet Nasr, is one of Cairo's earliest "satellite cities," a government-sponsored urban development that originally covered 6,300 feddans (6,539 acres) of desert land along the airport road between Abbasiyya and Heliopolis. In its early stages, Medinet Nasr represented the new Nasserist government's approach to remedying Cairo's booming population and infrastructural growing pains. Today, Medinet Nasr figures as a predecessor to Cairo's "planned cities," the likes of which continue to come into being in simultaneously jerky and grandiose gestures at the margins of the ever-greater Cairo. Originally designed to serve as a government center away from Cairo's central business district, Medinet Nasr has developed an infinitely unresolved, yet distinct identity. This identity straddles Cairo's recent history in a way that seems to define a particular Cairene present and foretell the future of an ever more state-sized metropolis.
Medinet Nasr's rapidly expanding concrete rings trace a particular history of Cairo's socio-economic and political climate, its uneven droughts and periods of growth. The city's 1956 urban development master plan channeled direct government involvement into the proposed settlement program. What preceded the development was a non-site (declared retroactively) to the east of Heliopolis, one of Cairo's chic residential neighborhoods, and claimed for development under that suspiciously useful label of "vacant land." The quarter's development began in the 1960s and had already outgrown its original blueprints by 1971, when boundaries were extended to incorporate an additional 14,000 feddans (15,162 acres).1 It continues to expand today with the addition of neighborhoods to the east.
Medinet Nasr's unapologetic modernist sprawl seems to insist on the physicality of history, especially the history of a reclaimed and self-determined Egypt that followed the 1952 revolution and the renegotiation of those concepts in following decades. Original housing was constructed by public companies, building and housing cooperatives made low-interest loans readily available, and the area was rapidly settled. The expanding ranks of nationalist-era civil servants and government employees constituted a majority of the area's first residents. Medinet Nasr became home to a flurry of new ministries and important government institutions such as the National Planning Institute and the Central Agency for Mobilization and Statistics. A newly installed metro line was intended to ensure access to the rest of Cairo.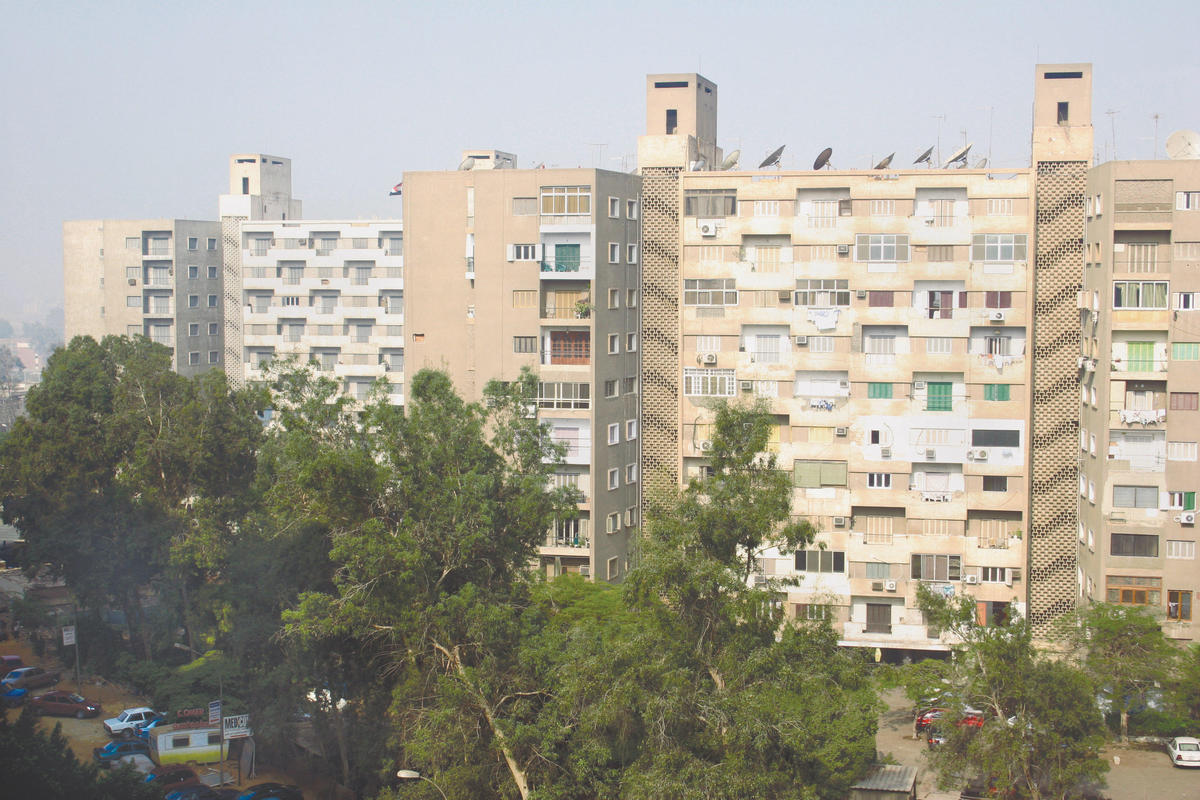 Shifting dynamics in the international oil market catalyzed the area's growth. A boom in oil revenues from the early seventies until the late eighties led to an influx of wealth into Saudi Arabia and the Gulf, dramatically changing the region's economic situation and spurring major development initiatives and widespread investment there. At the same time, more and more people flooded into Cairo from the countryside, as increasingly subdivided agricultural land became less and less sustainable. Many Egyptian men joined the multitudes of foreigners flocking to the oil rich region to work in all sectors and at all economic levels. Their imported income supported a parallel boom in Medinet Nasr real estate and lent the area a particularly Gulf architectural influence and an association with new money.
Most of the area's current residents live in lowand high-rise modernist style uniform apartment blocks. Individual balconies jut out from every apartment, breaking building facades into three-dimensional, public/private, outdoor/indoor constructions. An almost uniform grayish brown color coats the cement and stuccoed landscape. These are not suburban, one-family, post-World War II cookie-cutter homes that suggest a creepy alienation in superficial homogeneity, nor are they self-contained residence villages with surreal theme park names now popping up on the outskirts of Cairo. While there is a certain anonymity in their size and repetition, the apartment buildings also exhibit the intimacy of shared living space, an intimacy echoed throughout the rest of the central city, one of the densest areas in the world.
While no clear center exists, main thoroughfares informally divide the area into smaller quarters, with centralized areas of commercial activity serving localized communities. These neighborhoods are lined by the major and minor roadways that compose Medinet Nasr's automobile-oriented grid, and some of Cairo's longest streets are located here. This layout contrasts with many of Cairo's older road systems, built in a variety of non-orthogonal patterns, including the intricate and convoluted streets of medieval Cairo, as well as the French-style main streets extending from radial axes that characterize downtown Cairo and nearby Heliopolis.
Although Medinet Nasr's layout is designed to facilitate car commutes, traveling to other areas of Greater Cairo can be challenging. As in many other parts of the city, traffic jams routinely snarl the main thoroughfares leading in and out of Medinet Nasr. The congestion is compounded by the unevolved state of the area's metro line, which appears to have been neglected since it first rolled down the tracks in the direction of Heliopolis some forty years ago (although plans for new fourth and fifth lines are ostensibly underway). Residents also face infrastructural woes such as water shortages and rampant illegal building (shared by Cairo's so-called new cities), as well as more established but underserved city quarters, which differentiate it from older and more established neighboring areas and put into question its status as a "planned city." This is an urban center without a core but with a redoubtable internal framework, substantial boundaries marking it off from older areas of the city, and an evolving eastern frontier.
A significant number of commercial centers have sprung up and provide some form of an answer to the problematics of the area's diffused residential sprawl, lack of a distinct center and tricky access to neighboring districts. The city's reputation as a consumer center is buoyed by its dynamic youth culture, government designation as a public free zone (a taxand duty-free business district established to encourage investment) and the spending power of the area's wealthier classes. City Stars, one of the Middle East's biggest shopping centers, opened under a year ago in the vicinity of a safely "historic" Medinet Nasr quarter on the edge of Heliopolis. Teeba Mall, Geneena Mall, El Akad Mall, El Serag Mall and Wonderland Mall serve distinct constituencies.
The draw of these shopping centers extends beyond the often boutique-y goods and accessories they offer. They represent socially validated public spaces and shared interiors within Medinet Nasr's horizontally diffuse topography. The malls, with their panoptic layout, provide points of congregation where open-ended interaction between groups who rarely mix (such as high-school aged boys and girls) can occur.
Distinct from the rank and file gray apartments above, the first and second floors of the buildings that line the landmark Abbas Al Aqad Street are transformed into store exteriors of kitschy, shiny glass, ersatz glamour and bright lights. The shopping strip's often fantastic and somewhat disorienting mixed architectural styles seem to indicate the possibility of an unreality within the otherwise banal apartment building. The physical framework of Medinet Nasr's consumer activity thus supports escapism-voyeurism and the distraction of exchange-based value between groups and individuals-that simultaneously reinforces and subverts conventional architectures of social relations.
Here is a touch of life on the frontier of consumption: a half-empty cafe called The Cowboy on a semi-lit street; groups of young men circling the stairs of a mall; a foreign school educated graduate and subsequent dropout with an on-call dealer and pedigreed dog; hierarchies of prostitution played out along main shopping streets and private apartments; heavy metal fans arrested in a mid-'90s government crackdown on alleged Satanists; groups of window shoppers and windows of bright clothes; a collapsed multi-story building and ensuing public outcry; couples at fast food restaurants; strange abstract fountain sculpture; families on balconies; thirty-year old trees and a packed metro car with missing doors.
1 Aga Khan Program for Islamic Architecture, 1985. "Cairo: 1800-2000 Planning for the Capital City in the Context of Egypt's History and Development." In The Expanding Metropolis: Coping with the Urban Growth of Cairo. Ahmet Evin, ed. Singapore: Concept Media/The Aga Khan Award for Architecture