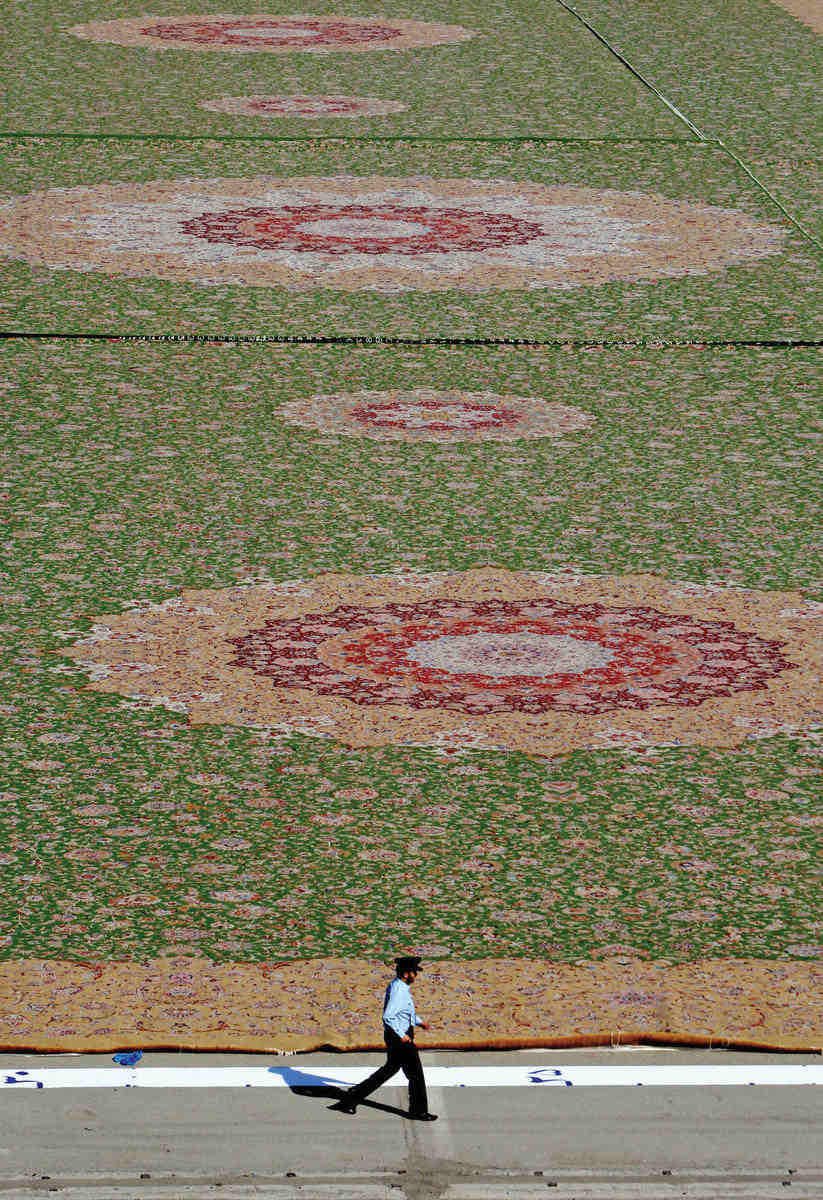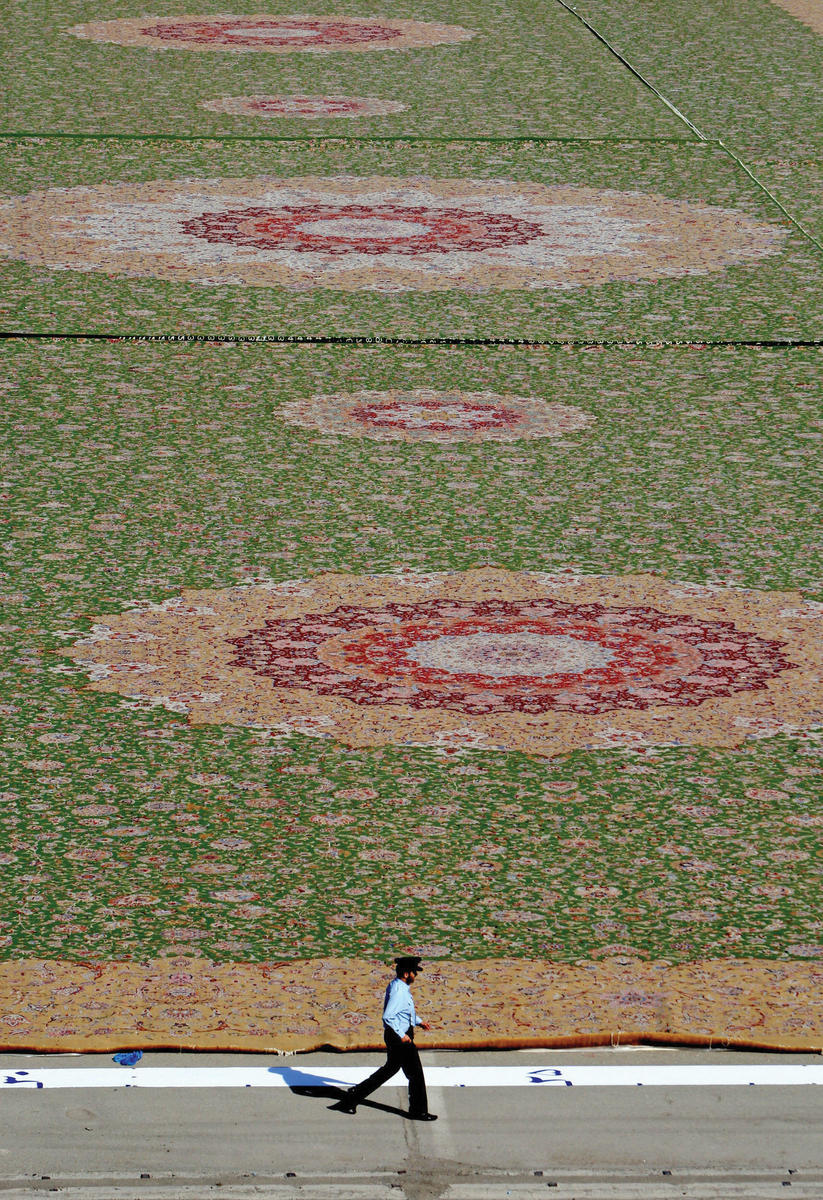 ALAS, THE ACCOUTREMENTS OF PERPETUITY
On July 31, Iran unveiled the world's largest hand-made carpet, ordered by the United Arab Emirates for the central prayer hall of Abu Dhabi's enormous Sheikh Zayed mosque. The carpet was designed by Iranian artist Ali Khaliqi and produced by Iran's state carpet company, whose director, Jalaleddin Bassam, made the following remarks:
As we all know, the weaving of Persian carpets is a timeless art form. Qasr al-Alam, the carpet you are observing beneath your feet today, is the greatest example of that art, and a testament to the enduring artistry of Iran's villager-weavers, whose skills have been honed for generations. And yet, for the first time in nearly 3,000 years, our industry is in decline. China, Pakistan, Turkey, and India are to blame, certainly; but it is we who must take the initiative to remind the world of the superiority of our products and traditional artisans. I was recently saddened to learn that 59 percent of Germans have never heard of a Persian carpet. Fifty-nine percent of Germans! In what work are our diplomatic missions engaged? It seems we would be remiss not to inquire about the carpeting needs of the populations where they are stationed, and also identify the latest design preferences, find out which colors are in vogue, so that we can increase orders and the visibility of Iran.

Iran's membership to the World Carpet Union can help prevent forgeries of traditional Persian rug designs — the theft of our cultural heritage — by other countries, but what it cannot do is convince you of the high value of an authentic, hand-crafted Persian carpet. Which is why I want to speak to you, the visiting dignitaries. You have heard me speak of the timelessness of this art. Now, let us bring this timelessness to your diplomatic headquarters, which might otherwise lack the accoutrements of perpetuity. Let us clothe your bare executive suite, so that your business partners and fellow policy-makers might luxuriate in a sense of infinitude. Let us pave the sad floors of your rented condominium with the knots of 3,000 years. Think of it as a gesture of goodwill.
HAZARDOUS MATERIEL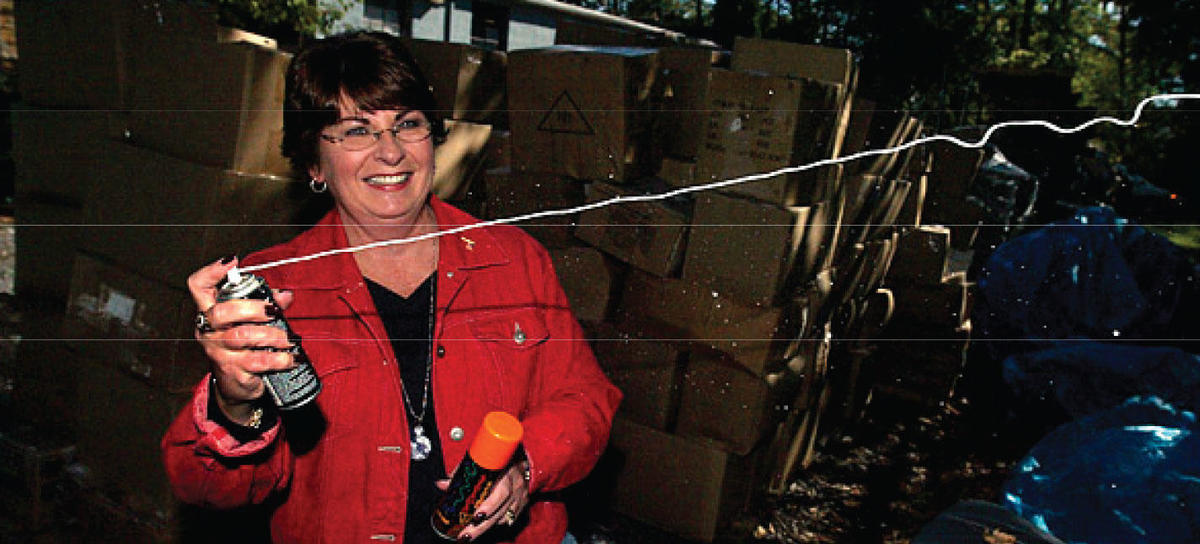 In October 2006, US Army Specialist Todd Shriver phoned his mother from Ramadi, Iraq. Marcelle Shriver, an office manager in Stratford, New Jersey, learned that Todd's unit had been using a children's toy called Silly String to detect trip wires connected to bombs planted by Iraqi insurgents.
Mrs. Shriver sent a few dozen cans of the "foamable resinous composition" to her son and began to collect cans for other soldiers, posting notices on bulletin boards and in her church newsletter.
Earlier this year the American media picked up the story, and Just for Kicks, Silly String's manufacturer, donated cases of the product to Mrs. Shriver. The Army announced that it would accept this shipment of non-standard-issue equipment but declined to comment on its use. But there was an additional problem; because it comes in an aerosol can, the foaming agent is considered a hazardous material. Most shipping companies refused to even consider it.
In October 2007, eighty thousand cans of Silly String were loaded out of the Shrivers' garage in Stratford, finally en route to Iraq, courtesy of Capacity LLC, a shipping company with experience in dealing with hazmat. "I am so happy right now," Marcelle Shriver told one reporter. "I am shaking."
TRUTH THROUGH EXAGGERATION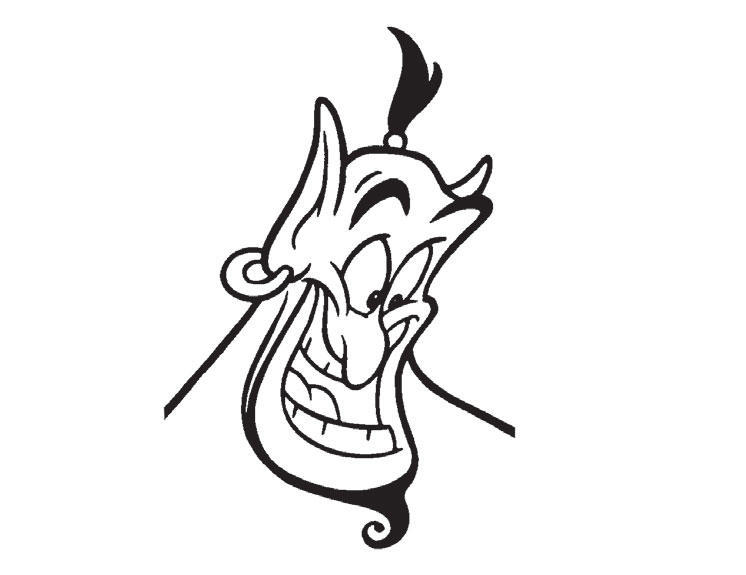 Researchers at the University of Central Lancashire have determined that animated caricatures are twice as effective at generating positive identification as conventional composite sketches. Dr. Charlie Frowd, lead investigator, says, "Normally, static computer-generated or sketched facial composites of criminals are publicized through newspapers and TV shows… However, they are often poorly recognized. This new research finds that a composite, especially a bad one, is much better identified if seen as a moving caricature."
Jason Fried of the blog 37signals.com summarized the finding: "If the guy has a distinctive chin, play that up in the sketch. If he has distinguishing eyes, highlight them. If he has a unique crook to his lips, draw 'em so you can't miss 'em. A photorealistic sketch is an exercise in accuracy, but an exaggerated caricature is an exercise in identity."
Caricatures of Hollywood actor Brad Pitt, ex–Prime Minister Tony Blair, and British TV host Ant McPartlin have been created to showcase the project.
Though it is unclear whether the same logic obtains for non-white faces — or for non-celebrities, for that matter — police in Derbeyshire, England, will roll out the new technique in early 2008.
BATTLE OF THE BURJ(S)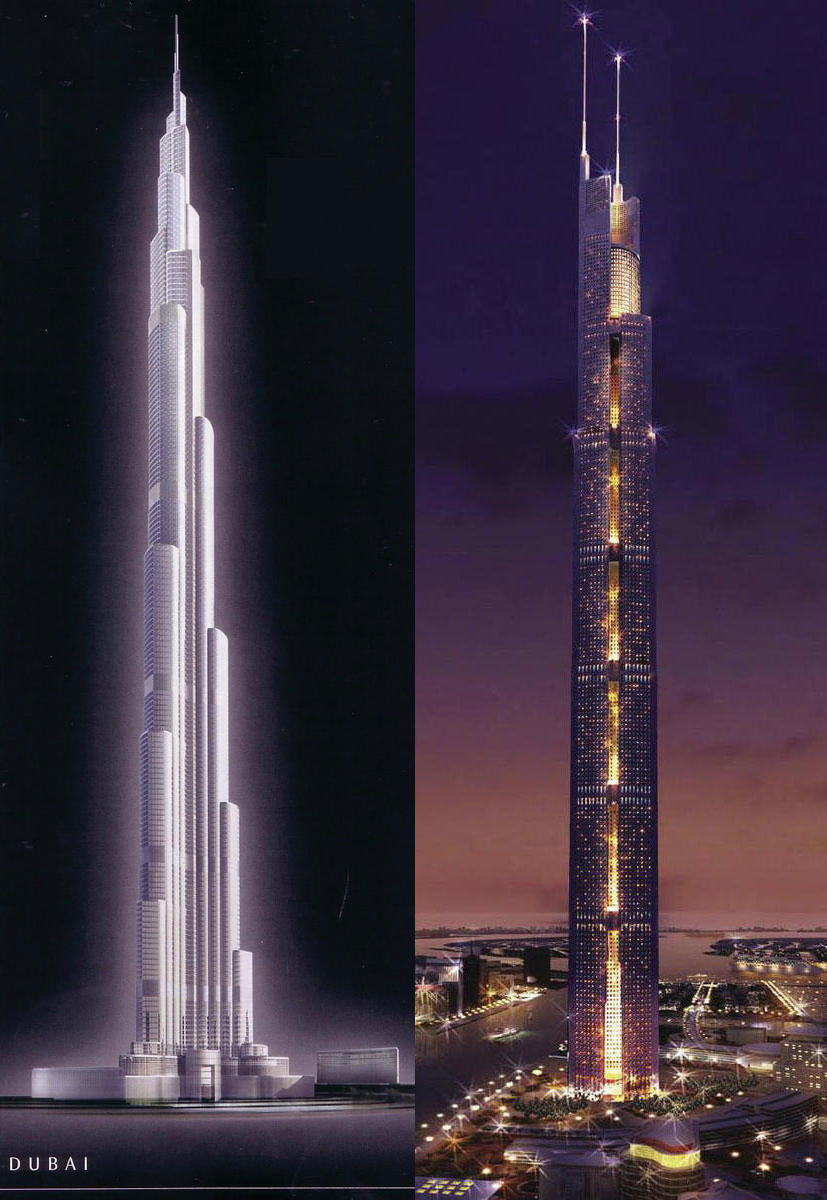 From Qutub Minar to Petronas Towers, to Taipei 101 to the GRES-2 Power Station, the endeavor to erect a structure that reaches into the firmament has for centuries engaged the energies of emperors, pharaohs, emirs, and multinational corporations. Today the world looks to Dubai to claim the title of World's Tallest Building.
Burj Dubai ("Dubai Tower"), a luxury tower set to reach a record of more than 800 meters (with 164 floors) by the time it opens later this year, was recently challenged by Al Burj (The Tower), the proposed centerpiece of what will be the world's largest waterfront development. The developer, Nakheel, has been tight-lipped about the skyscraper for fear of provoking its rival, Emaar Properties, into crowning Burj Dubai with a hundred-meter spire. "Height isn't everything," Nakheel CEO Chris O'Donnell said, expressing a preference for iconic status over mere stature.
But why would either developer stop building? Contractors and construction officials are speculating that Nakheel would be foolish not to tack on the meters necessary to surpass Emaar. There is also the prospect of each developer building incrementally, adding on another few meters every week to best its competitor, ensuring that neither will remain the winner or loser; but such a situation can only continue until one building's structure can support no more growth, or a third tower overcomes them both — for there can be no lasting draw in the pursuit of the heavens.
IDEAL ARAB MOTHER AWARD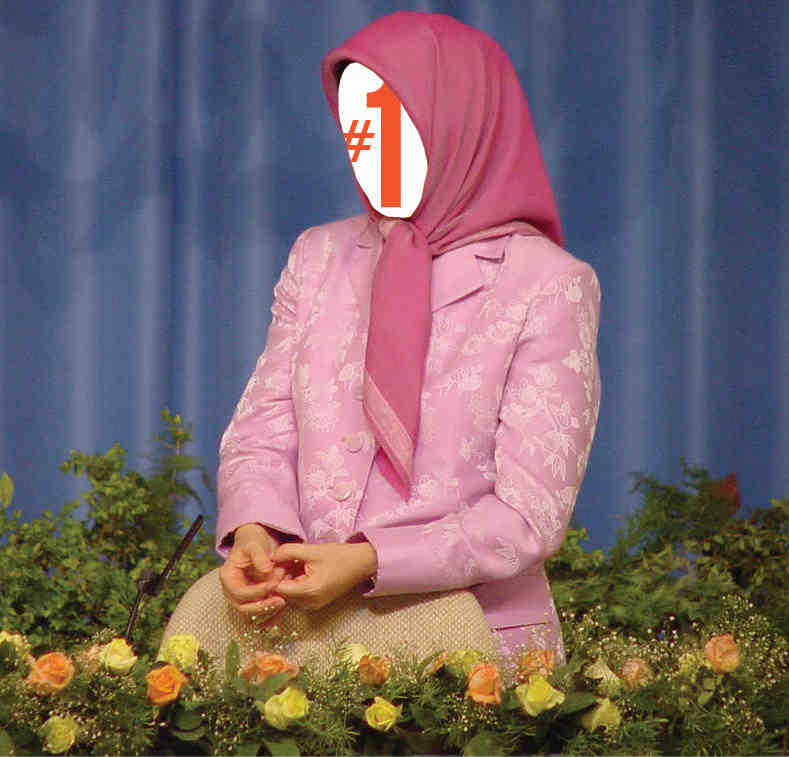 Press release, Dubai Shopping Festival:
The story of Fatma Fadhel Al Mazrooi is one of perseverance and courage. Says Fatma, "When I got married I moved to Abu Dhabi with my husband and five children — three wonderful girls and two equally wonderful boys. Unfortunately, my marriage with my husband did not work out and we had to seek for divorce."

A woman who believes in the will of God and one who does not accept defeat easily, she set about providing the brightest of futures for her five young children.

Today, thanks to the perseverance of this mother, twenty-nine-year-old Alia, the eldest daughter in the family, is working toward her master's in pancreas planting in Switzerland; twenty-seven-year-old Fares is studying civil engineering in the US and will be graduating in May this year; Abdullah who is twenty-five and Hessah at twenty-three are both studying medicine at Al Khalej (Gulf) University in Ajman and are planning to continue their studies in Germany or Switzerland; and twenty-year-old Danah, the youngest, is in her third year at the Zayed University studying décor engineering. All five of them are fluent in Arabic, English, and French, except Abdullah who also speaks Spanish.

"Bringing them up was by no means an easy task. Every step was a challenge as a single divorced mother in this community, but I didn't want to remarry because I wanted to give all I had to my children, so what people thought really didn't matter to me. I thank HH Sheikh Mohammed bin Rashid Al Maktoum, Crown Prince of Dubai and UAE Minister of Defense for this great prize that motivates any mother to give more for a better generation…"