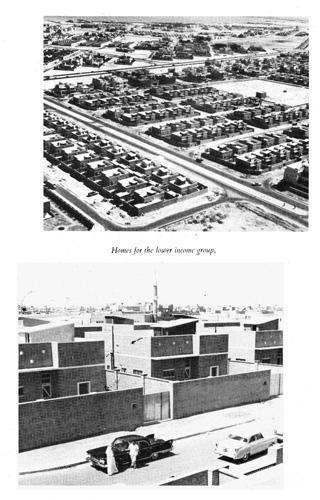 The station has its own orchestra, with twelve violins, two celli, two double basses, one quanoon (like a zither), one nai (a bamboo flute) and an oud (a sort of fat, crooked guitar); percussion comes from a riq, a tambourine and a tympany drum, while often the orchestra is joined by a clarinet, and accordion and piano.
More road safety films are planned, and tourist films showing the entertainment possibilities of a stay in Kuwait will be made. Already the Ministry has its own small private-viewing cinema, and makes films of trade missions and the visit of important guests; afterwards copies are made and given away to the guests.
Kuwait's four hours of daily television — with an extra hour on Thursdays — is planned on a something-for-everyone basis. The first programme to go out nightly is always a recitation from the Koran. After that comes a programme for children; it shows a "children's corner" of songs, dancing and plays recorded in advance by Kuwaiti schoolchildren, together with regular comic cartoon features. Following this is a general feature, sometimes for women, sometimes on health or world affairs, art or science.
For a special Wednesday programme viewers can send in stories of their problems; actors then dramatize the problem for broadcasting.
Short programmes of songs and music always precedes the news.
The news and the longer film programmes are left until late to give shoppers and shopkeepers time to get home, for many Kuwait shops are open until 8.30 or 9 in the evening.
All text and images from Kuwait Today: A Welfare State. Nairobi: Quality Publications, 1963