Donghuamen Night Market — a row of standardized food stalls stretching westward from the Wangfujing shopping district in downtown Beijing — is the stage for a culinary-theatrical carny hustle on the theme of Crazy Things Chinese People Eat. Self-consciously exotic displays of skewered snakes and skewered frogs and skewered centipedes and skewered testicles transform passersby into gawkers. More typical street food — fried banana balls, minced-pork sandwiches, fried noodles — is available for the less adventurous.
It takes a little while to learn the ropes. Salted silkworm pupae are tasty enough, but at five fat ones to a skewer, a single order is best for sharing (unless you really love chitin). Foreigners in search of "authentic foodways" might begin to notice that the Chinese themselves are whipping out their camera phones and giggling before they try the leggiest, crawliest morsels. Indeed, many of the things on skewers are flatly impossible to eat in this manner (whole, on a stick, with your teeth). Like a crawfish, for example.
But then, in Stall 56, where a red cloth flag certifies his sanitary bona fides, there is Zheng Zhongbin. Zheng has been at Donghuamen since 1991, and for the last twelve years he has held the monopoly on scorpions. He has big, black, shiny scorpions for 50 yuan, and an assortment of other arthropods, including crickets. But he recommends the small, drab pincer scorpions, for 15 yuan. "Of all the food that I sell," Zheng said, "the scorpions sell and taste the best."
Due to hygiene regulations, Zheng's scorpions are canned in brine. "No doubt, the live ones taste better," he admitted. He prepares them by soaking them in fresh water, then giving them a preliminary fry in oil to make them look nice. When a customer orders a skewer, Zheng gives it a final flash-fry. This is the crucial part — too long, and the taste gets bitter; too short, and the flavor doesn't fully develop. The oil is a standard cooking variety. "If you fry them with pure sesame oil, they will taste even better," he said.
Foreigners usually buy one three-scorpion skewer at a time. Chinese people might buy ten. (Some people buy them as medicine; they're said to be cooling and cleansing and good for the complexion.) Sometimes Zheng cooks scorpions for himself at home, he said, and eats them while drinking erguotou liquor that he's infused with herbs. Big restaurants like the Quanjude duck chain might sell scorpions, too, he said, but he doesn't recommend ordering them there; the cooks don't get enough practice.
"I'm not trying to talk big," Zheng said, "but I am confident in saying that, speaking of frying skills, I'm the best in this market."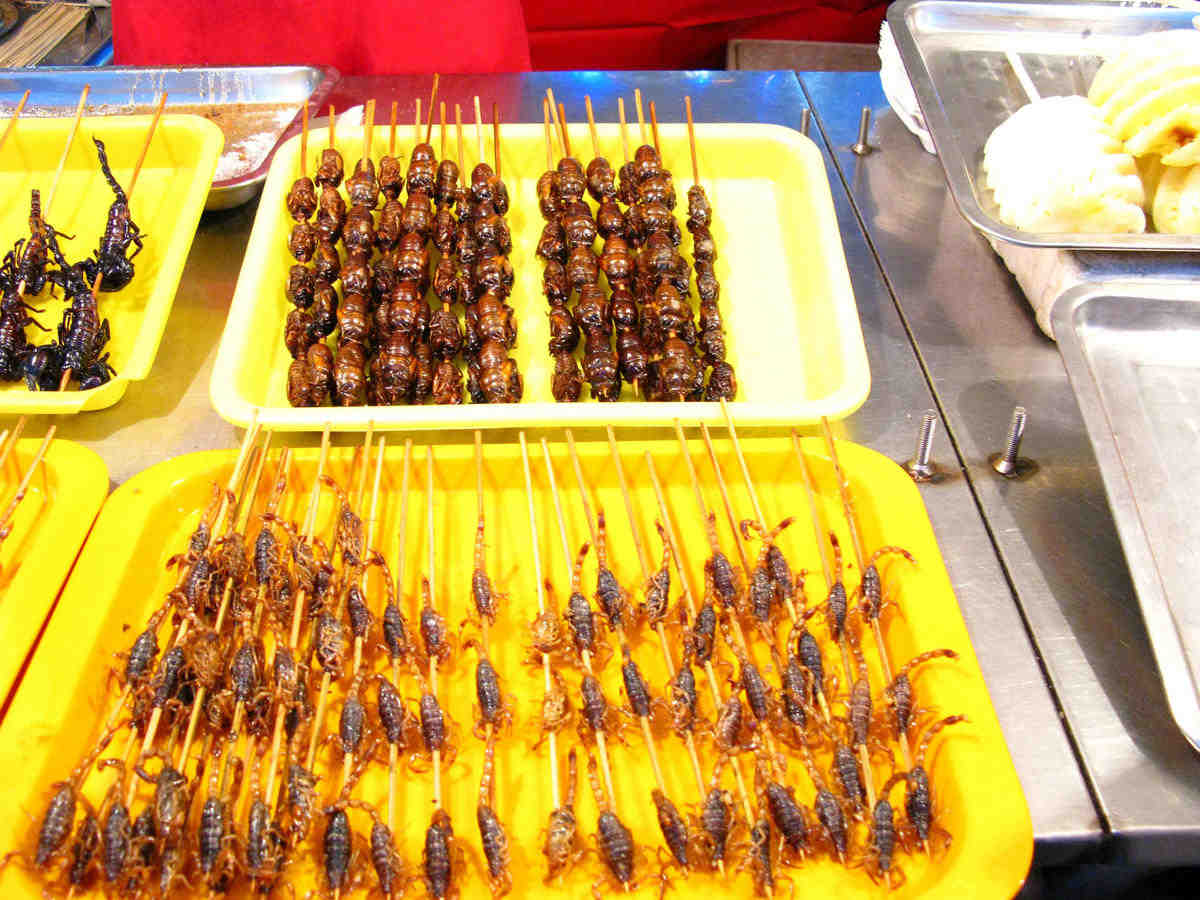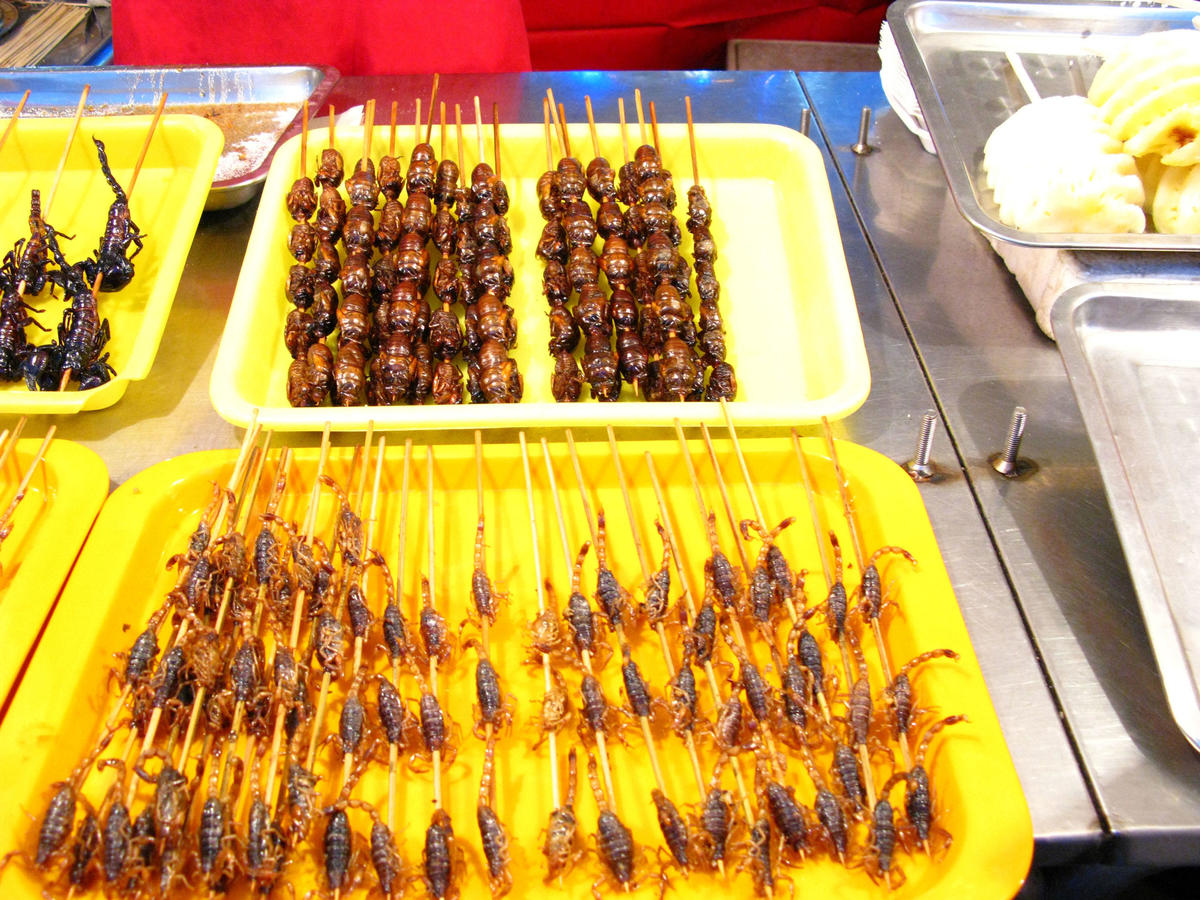 DEEP-FRIED SCORPION KEBAB
INGREDIENTS
1 CAN EAST ASIAN PINCER SCORPIONS IN BRINE (APPROXIMATELY 20 SMALL SCORPIONS) COOKING OIL, FOR FRYING
SALT
GROUND RED PEPPER
Drain the scorpions and soak them in fresh water for at least one hour to remove excess salt.
Heat the cooking oil over a medium-low flame, about 120 or 130 degrees Celsius.
Spear the scorpions on wooden skewers, three to a stick, and fry them in oil for about a minute, until the carapaces look firm. Set aside.
Just before serving, fry them another minute or two.
Remove them from the oil and sprinkle with salt and red pepper to taste. Serve hot.
Makes 6 or 7 skewers.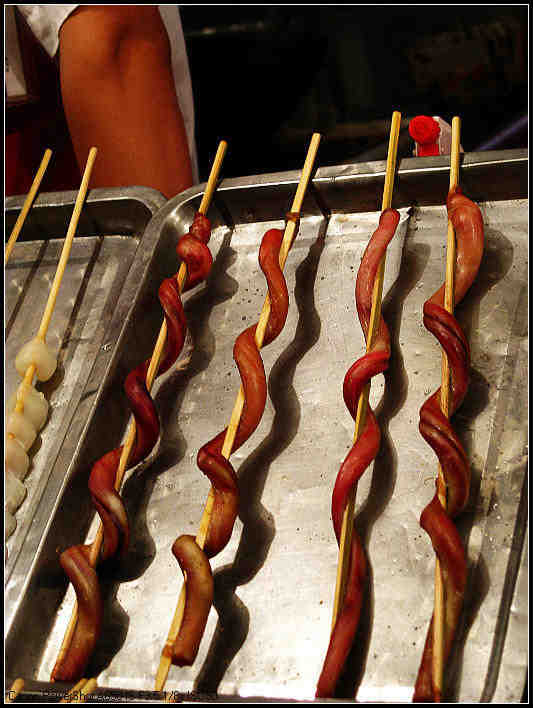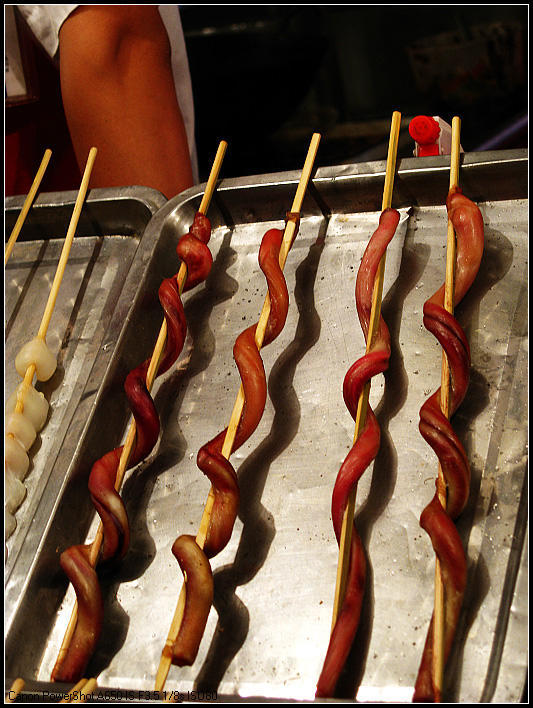 LAMB PENIS KEBAB
INGREDIENTS
1 LAMB PENIS COOKING OIL, FOR FRYING SALT CUMIN
Wind the lamb penis around a wooden skewer, piercing it at either end.
Heat the oil over a high flame.
Fry the skewered penis in oil for 1 to 2 minutes.
Remove it from the oil and season with salt and cumin.
PORK-INTESTINE SOUP WITH PANCAKE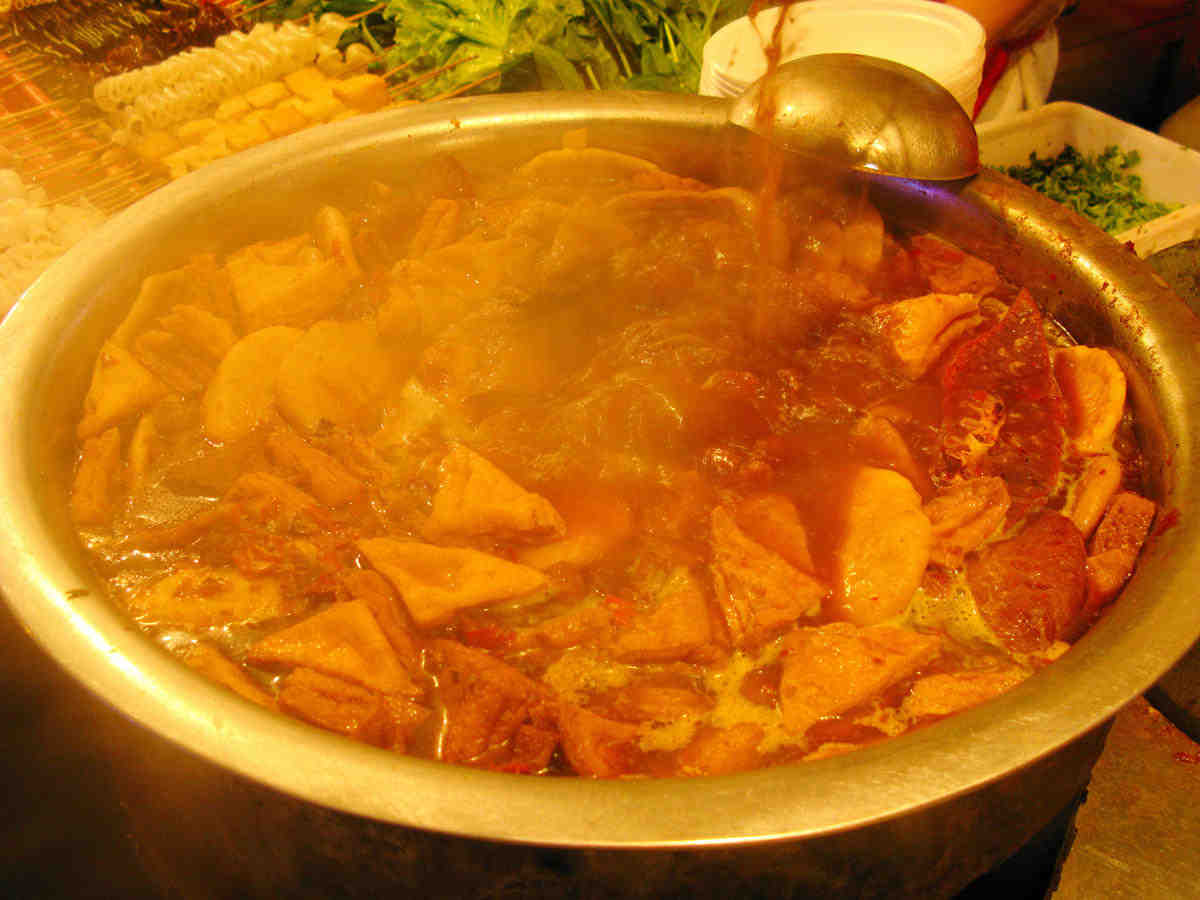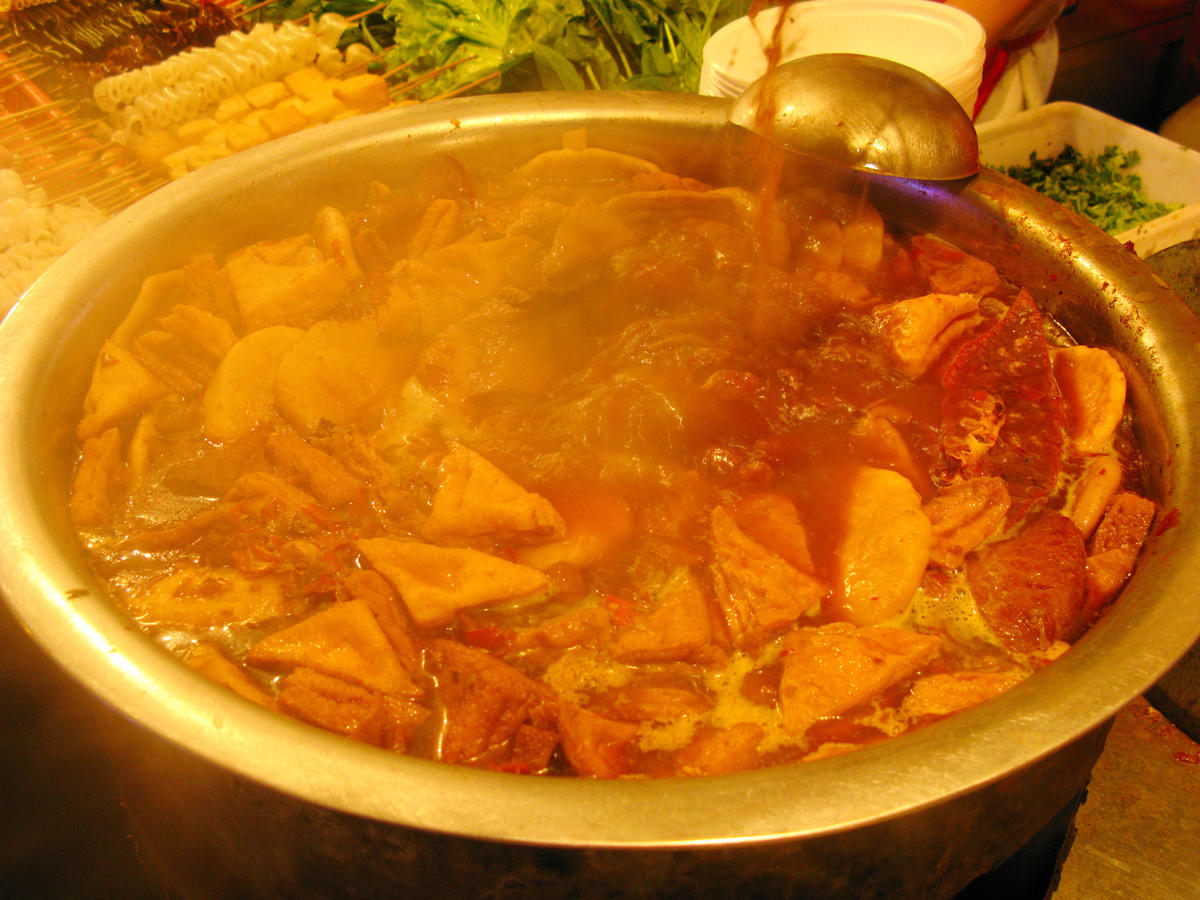 INGREDIENTS
FOR THE PANCAKE FLOUR WATER SALT FOR THE SOUP PORK INTESTINES PORK HEART PORK LIVER PORK LUNG GINGER LEEKS GARLIC STAR ANISE SOY SAUCE FRIED TOFU SESAME BUTTER DOUFU RU (SALTED FERMENTED BEAN CURD) JIU CAI HUA (SALTED GREENS) GREEN CORIANDER
For the pancakes:
Combine the flour, water, and a pinch of salt to make a dough about the consistency of pizza dough. Let sit for 15 minutes.
Tear off a tennis-ball-sized portion and use a rolling pin to make a cake about 15 cm across and 2 cm thick. Cook this in a frying pan over medium heat for 8 to 10 minutes.
For the soup:
Chop the organs into chunks and simmer for at least 5 hours in water, with the fried tofu, ginger, leeks, soy sauce, and star anise.
Just before serving, add a pancake to the soup and boil it for 3 to 5 minutes. Remove the pancake and chop it into smaller pieces.
Remove a chunk of each kind of organ meat and chop into smaller pieces.
Put the chopped pancakes and meat into a bowl with fried tofu and add broth. Add the jiu cai hua, green coriander, doufu ru, sesame butter, and minced garlic and serve.
 FLASH-BOILED LAMB STOMACH
INGREDIENTS
LAMB HEART LAMB LIVER LAMB LUNG LAMB STOMACH SESAME BUTTER JIU CAI HUA (SALTED GREENS) DOUFU RU (SALTED FERMENTED BEAN CURD) LEEKS GINGER STAR ANISE  Precook the heart, liver, and lung in boiling water, with leeks, the ginger, and the star anise, for 5 hours. Drain and slice the organ meats into strips.
Boil the cooked strips of meat in a new pot of water, along with leeks and black pepper. Slice the raw stomach into strips.
For each bowl of soup desired, cook about 200 grams of the stomach meat in the broth, using a slotted spoon or dipper, for about one minute.
Fill the bottom of a soup bowl with chopped green coriander. Fill the bowl with broth and stomach meat, either alone or combined with the other meats. Add jiu cai hua and doufu ru and serve.