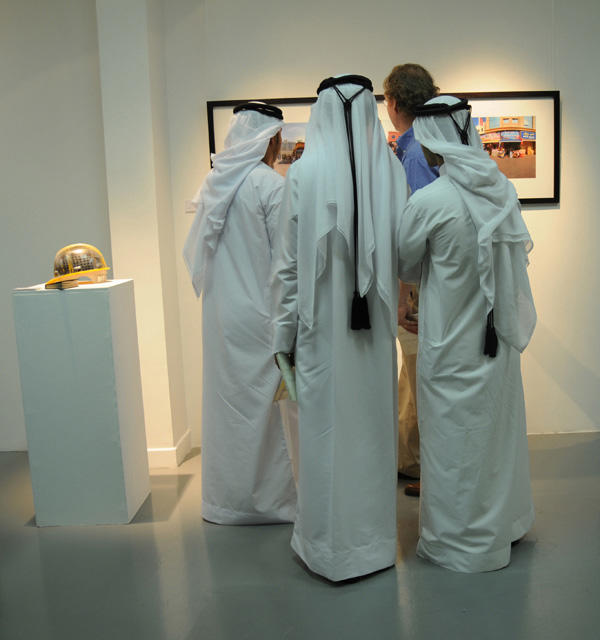 Located out near Dubai's racecourse — Nad Al Sheba, home to the world's richest horserace — an arts center is housed in a mid-1980s-era white stucco building that began life as a supermarket. Tashkeel offers the only open studios for artists and designers in the Gulf; the fledgling organization is hoping to foster an artists' community in Dubai.
In a town where ethnicity is paramount — local newspapers identify everyone by race, schools are defined by their curriculum and catchment group, and job specifications can be racially specific — Tashkeel has an unusually easy, open ambience, and its makeup reflects Dubai's mix of Emiratis and expatriates.
The arts center has its origins in a special project of Sheikha Alia bint Khalifa Al Maktoum, wife of the late former ruler of Dubai. In 2003 the ex-supermarket became Latifa College, then the UAE's only dedicated fine arts school. Its student body consisted of eleven local graduates of the Latifa School for Girls, including Sheikha Lateefa bint Maktoum, Sheikha Alia's daughter.
In its second year, Latifa College became affiliated with zayed University. But when the main campus began offering arts courses, and the original cohort graduated, it folded. The culmination of the bijoux college's career was 'e11even,' a graduation show at the Dubai International Financial Centre.
Planning for Tashkeel (Arabic for "to form") began almost immediately. Working with the college's director, Jill Hoyle, Lateefa bint Maktoum set out to turn the space into a "hub for creative minds" and a lifelong learning center for artists in the UAE. The facilities include studios for printmaking, silkscreen, and textile printing; a painting room; and a TARDIS-like darkroom. In addition to Mac workshops, large-format printers, a mini film studio, and a small library with international art magazines and books, Tashkeel boasts a light-filled lobby that doubles as a gallery space. Although there is work for sale, the venue has a low-key, discerning sincerity, in contrast to some of Dubai's more dollar-driven startups.
Members pay Dhs7,500 ($2,000) a year. Currently there are about thirty, working in a range of media. Still, Tashkeel has some way to go before it becomes a buzzing community. Hoyle and Maktoum have been organizing workshops, exhibition openings, and the like, but the center's location and serious artistic — as opposed to high-society — bent means it has to work extra-hard to attract members.
One of Tashkeel's most important initiatives is its residency program, one of the few such opportunities in the Gulf. The first exchanges, with artists from Rome and Berlin, were too brief, and the participants were housed away from the center. Tashkeel aims to develop longer-term, more process-driven residencies; they're in discussion with artists' groups in China, Japan, Italy, and the UK.
Tashkeel launched around the same time as Dubai's new, ambitious Culture and Arts Authority (DCAA). Under the direction of ex-Berlin Opera chief Michael Schindhelm, the DCAA has announced a Universal Museums project, a kind of meta-institute based along the Creek that will offer a permanent home and collection-sharing opportunities to a band of brands (such as the Louvre, the British Museum, the Hermitage, the Getty, New York's Metropolitan, and so on). A new Rem Koolhaas-designed temporary visual and performing arts center will open in Creek Park in 2010. And, this past June, the government also announced plans for a Museum of Middle Eastern Modern Art, designed by the Dutch firm UN Studio. The behemothic structure will be included in the real estate development Culture Village — although details such as what collections or works will be displayed, and when it will be built, remain vague at this stage.
Amid this plethora of plans, public libraries are to be revamped and an arts academy launched. But, breathtaking as they may be, these ventures will be some time coming and will arrive weighed down by the baggage of government zeal and public anticipation. Tashkeel reminds us that sometimes it's the quiet initiatives that count.