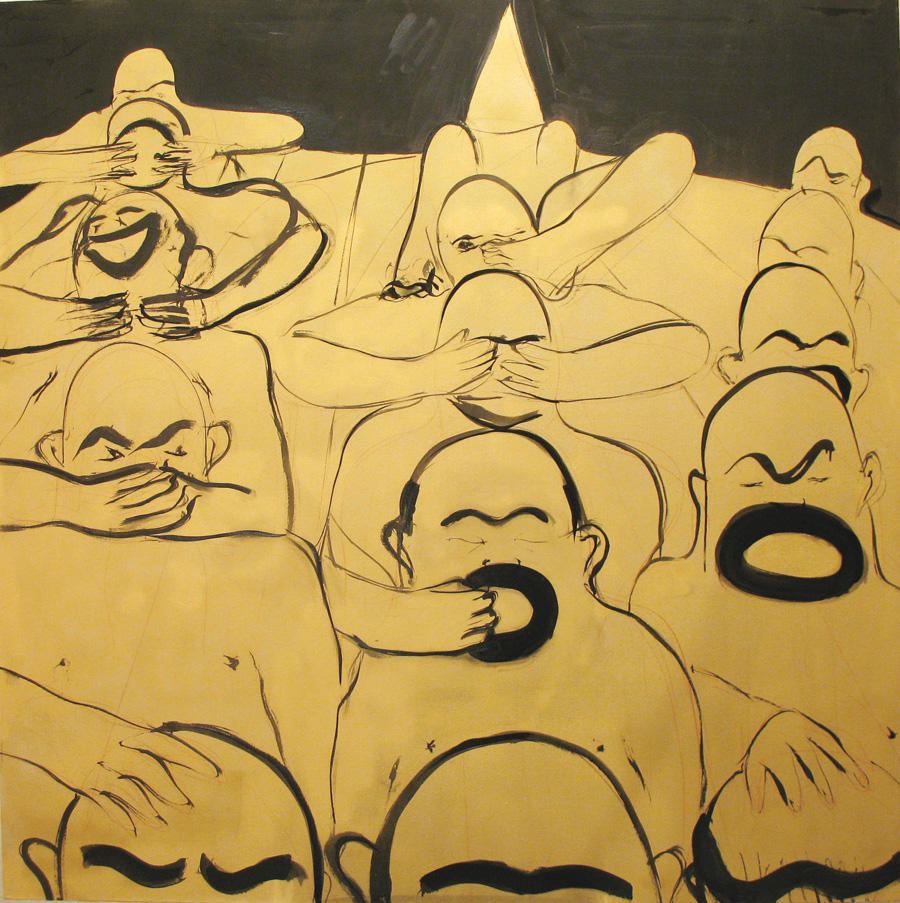 New York
Tala Madani: Smoke and Mirrors
Lombard-Freid Projects
February 23–April 7, 2007
Tala Madani's preoccupation seems to be the image — reifying it, varying it, and, finally, sub­verting it. In her New York debut at Lombard­-Freid Projects, the young painter, just gradua­ted from Yale's MFA program, presents a series of paintings that engage the cliché (here in the form of an iconic Middle Eastern man), pack­ aging that engagement in the most delicious veneer. Ranging from the abstract to the fan­tastic to the cartoonish, Madani's men pray together, play together (sometimes in homo­erotic fashion), and engage in naughty transgressions. At times, an ambiguity reigns in the artist's images. In the Cake Series, for example, a birthday cake takes on a new life. Are the cake's candles a sign of celebration or, rather, a fuse for a bomb? In larger works, Madani's fi­gures multiply, creating a wallpaper of sorts, a motif that seems to signal that she is engag­ing with the routines of the world around us, the human family.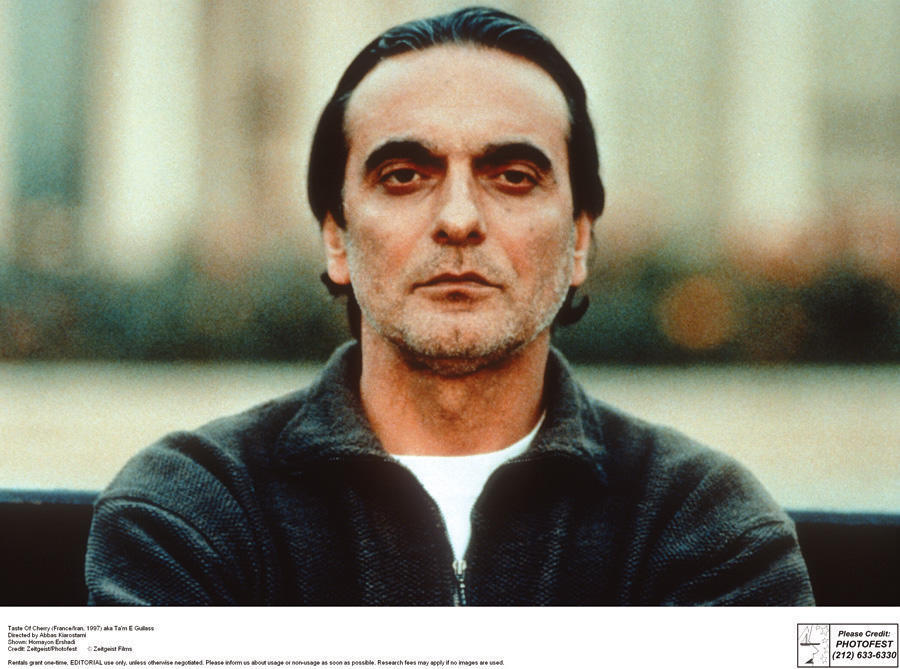 New York
Abbas Kiarostami: Image Maker
MoMA and PS 1 Contemporary Art Center
March 1–May 28, 2007
Renowned Iranian filmmaker Abbas Kiarostami is the subject of a multisite, multimedia retrospective at the Museum of Modern Art (MoMA). Kiarostami is already a darling of the European festival circuit; the MoMA event marks his big­gest US outing to date. On the second floor of the museum, the exhibition Abbas Kiarostami: Image Maker consists of an installation of Five (also titled Five Dedicated to Ozu), Kiarostami's radically minimalist film from 2003, featuring five extended, single­-take sequences, shot on handheld DV camera along the shores of the Caspian Sea: A piece of driftwood is tossed and broken by the waves; people stroll along the pro­menade; a group of dogs gathers by the water's edge; ducks noisily move across the frame; and a pool of water is shot at night with the sounds of a storm and frogs croaking breaking the stillness.
Installed on five screens throughout the gal­lery space, Kiarostami's film is a meditation on ways of seeing. At the same time, a comprehen­sive film retrospective of thirty-­three of the direc­tor's features and shorts is scheduled, including classics ranging from Close-Up (1990, a Bidoun favorite) and Taste of Cherry (1997, one of two of the director's films to take the Palme d'Or at Cannes) to the more experimental Ten (2002). And finally, at Long Island City's PS 1 Contemporary Art Center, an installation of Kiarosta­mi's photographic work includes the premiere of the installation Summer Afternoon, together with selections of photographic works from two series of photographs: Snow White and Roads and Trees (1978–­2003). Abbas Kiarostami: Im­age Maker also features two new series, Rain (2006) and Trees and Crows (2006).
---
Abu Dhabi
Sotheby's Prize for Contemporary Middle Eastern Art
January–March 2008
Sotheby's is following Christie's successful leap into the Gulf, setting up shop in Abu Dhabi. "We've agreed to collaborate closely on cultu­ral initiatives over the next few years," says Rox­ane Zand, who was appointed director of Sothe­ by's Middle East and Gulf region in November 2006. Part of the start­up team for the Tehran Museum of Contemporary Art, Zand left Iran in 1980, and has since worked at Oxford Univer­sity and with the Khalili Collection and the Iran Heritage Foundation in the UK.
Sotheby's is also planning an annual visual arts prize, aimed at recognizing emerging artists of Arab or Iranian origin. "We feel that there is great promise in many of the young artists in the Middle East, and we would be honored to provide a framework to encourage recognition of their talent, both in the Arab world and inter­ nationally," Edward Gibbs, director of Islamic and Indian art, told Bidoun.
Artists must be nominated by a leading figure involved in contemporary Middle Eastern art; a jury made up of figures from the commercial and museum worlds, an established artist, a contemporary gallerist, and a Sotheby's specialist will select a shortlist of artists whose work will be exhibited during the DIFC Gulf Art Fair in 2008. The winner will receive a "substantial cash prize."
Besides touring exhibitions of highlights from upcoming auctions, the auction house is also planning a Sotheby's Week, "spanning exhibitions, charity auctions, educational programs, music, performance and other significant projects," in January 2008.
Meanwhile, Gibbs and Dalya Islam of the Is­ lamic and Indian art department are putting together a sale of modern and contemporary art from the Middle East, to be held in London on October 23.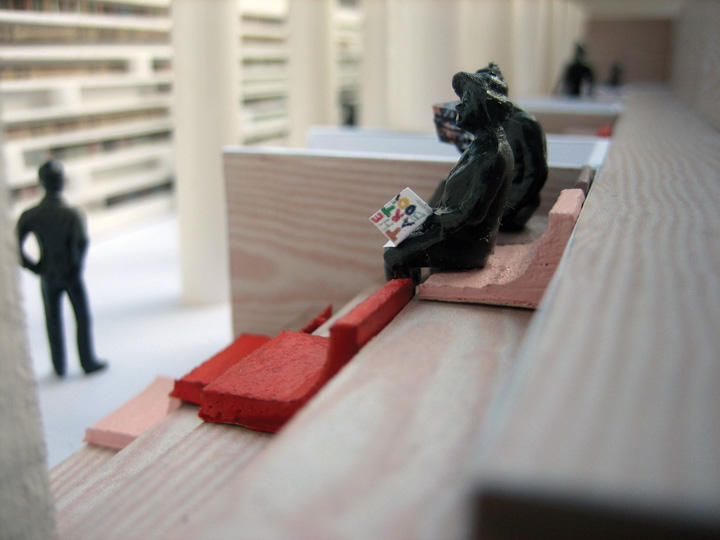 Istanbul
Platform Garanti Library
March 20–June 9, 2007
This spring, Istanbul-­based gallery Platform Garanti's extensive collection of publications on art, architecture, and theory, as well as the gal­lery's artist and DVD archives, will be installed in the gallery space as a public research library. The library recently acquired around 400 new publications during Platform's presence at Frieze Projects with the project collecting point, a drop-­off point for the donation of art publica­tions and periodicals. The library now consists of more than 6000 publications, which can be accessed and studied throughout the duration of the library initiative. While the library is in place, a program of readings, talks, screenings, and discussions will take place.
Platform aims to expand its research audience, to initiate a discussion about the dearth of pub­ lic libraries in the city, and to reconsider the role of its gallery space, which exists on the most traversed street in Istanbul. The library is being designed as a user­-friendly space by the newly initiated architecture practice SuperPool.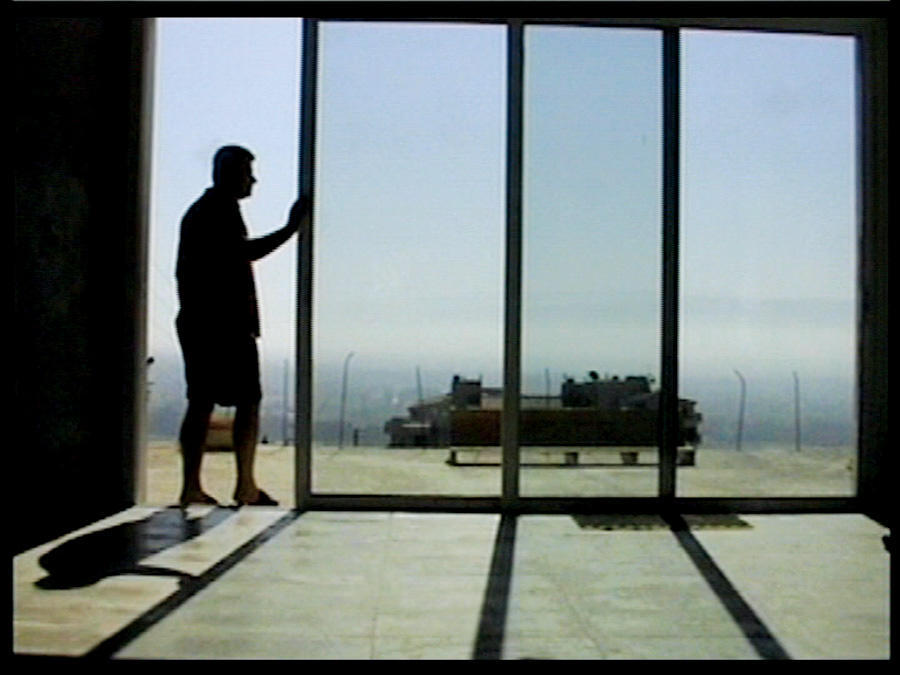 Beirut
VidéoAvril
Al-Madina Theater
This spring in Beirut, Ashkal Alwan presents VidéoAvril, an ambitious program of twenty­ six new video productions inspired in one way or another by last summer's war. Supported by Ashkal Alwan, the Lebanese Association for Plastic Arts, VidéoAvril was born of the recog­nition that the arts have been a means, par ex­cellence, for channeling responses to the con­flict and its aftermath. From the moment the first bombs fell, artists documented the crisis as it unfolded, often in ad hoc manner with mini DVRs, cameras, and mobile phones. Film­ maker and video artist Ghassan Salhab coor­dinated Video Works, whose program inclu­des younger emerging artists such as Malek Anouti, Anthony Bou Khalifeh, Ali Cherri, Ah­mad Ghosayn, Rima Kaddissi, Ali Kays, Rania Rafei, Ziad Saad, Rami Sabbagh, Roy Samaha, and Corine Shawi. A second video program, entitled Summertime, showcases a collective project by Shérine Debs, Joanne Issa, Hisham Jaber, Nadine Ghanem, Rania Majed, Rania Rafei, Halim Sabbagh, Corine Shawi, Rana Sa­lem, and Myriam Sassine. And finally, a third program, Timelapse, presents works by Maher Abi Samra, Ziad Antar, Nadim Asfar, Mahmoud Hojeij, Lamia Joreige, Wael Noureddine, Ghas­san Salhab, Rania Stephan, and Fadi Toufiq.
Video Works is presented within the frame­ work of ALMOSTREAL and supported by the European Cultural Foundation, the Prince Claus Fund, and the American Center Foundation.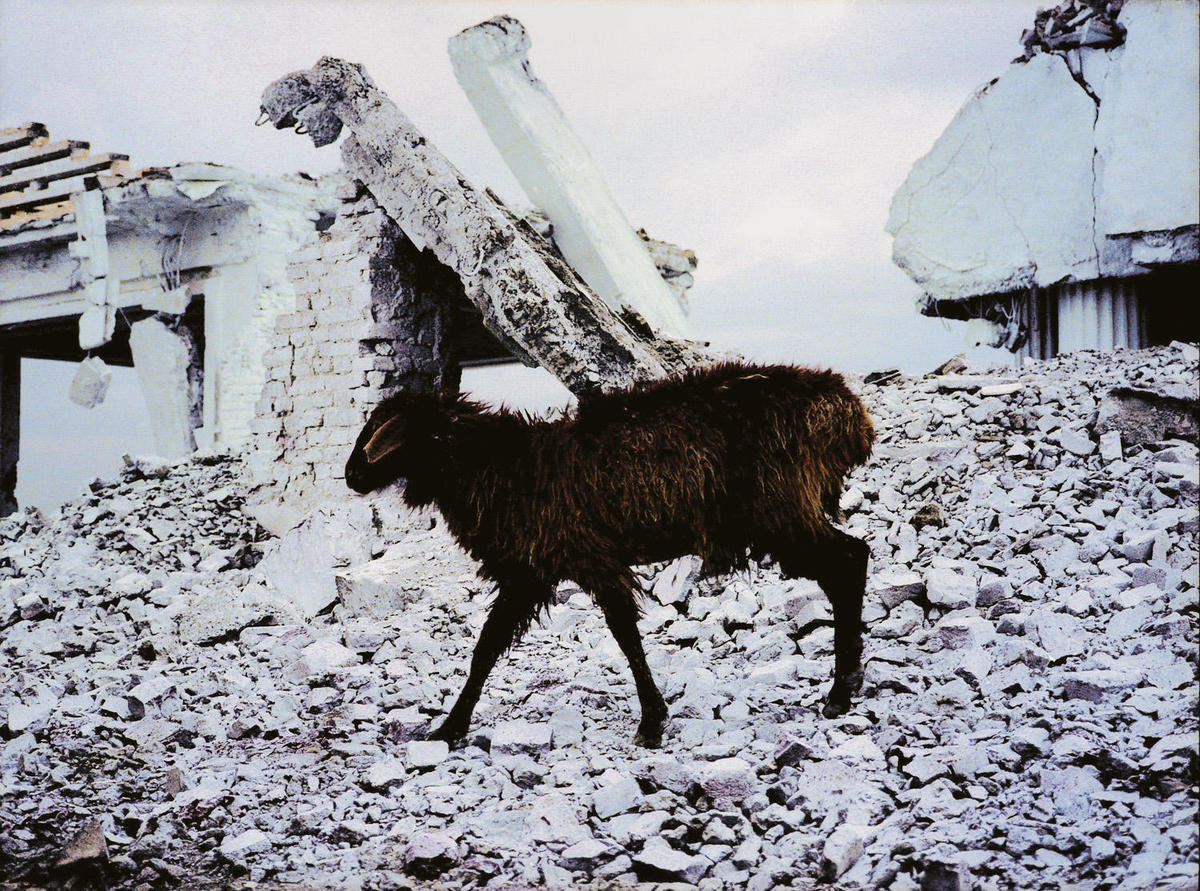 Sharjah
Sharjah Biennial: Art, Ecolo­gy, and the Politics of Change
Various venues
April 4–June 4, 2007
In 2007, the Sharjah Biennial takes Art, Ecolo­gy, and the Politics of Change as its theme. Artistic director Jack Persekian returns for a sec­ond time under the direction of Hoor Al Qasimi, and is joined by curators Eva Scharrer, a Swiss critic; Jonathan Watkins, of the UK's Ikon Gal­lery; and UAE artist Mohammad Kazem. Toge­ther they've selected eighty artists for the show, a third of whom are from the Arab world.
The lineup ranges from the very established (Mona Hatoum, Cornelia Parker) to current art­ world favorites (Tue Greenfort, Lara Almarce­ gui), regional stalwarts (Akram Zaatari, Lara Baladi) and new names (Bahraini Noor Al­ Bastaki, Oslo­based Anawana Haloba).
With the state­-sponsored Cairo Biennial be­ coming a non-­event, and Beirut's Homeworks focusing on performance and video, the Shar­jah Biennial is now arguably one of the most important exhibition events on the Arab art world calendar. This year's event features fifty new commissioned projects, including Gustav Metzger's vast installation of 120 cars pump­ ing fumes into a sealed, transparent structure, which the artist first proposed in 1972 but was never able to realize previously.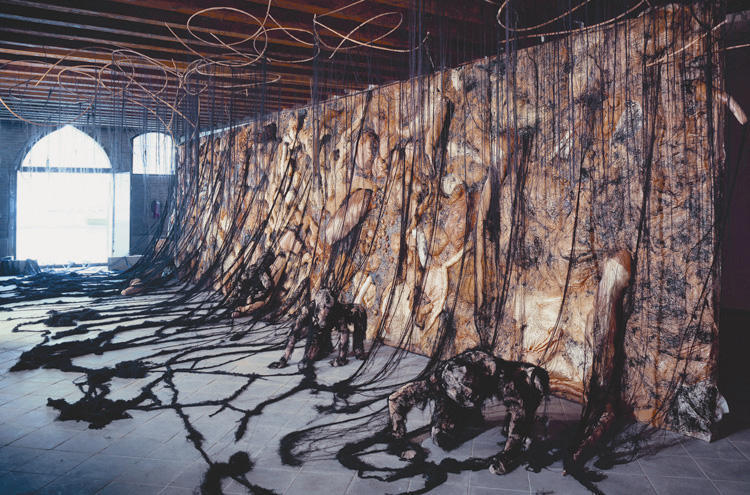 Other artists making work in Sharjah include El Anatsui, who will create a nine-­by-­nine meter squared carpet of bottle tops, and Rirkrit Tira­vanija, who is producing solar­-powered road signs reading "Less Oil More Courage." Others have been touring Dubai's new man-­made is­ lands and other real estate behemoths to ex­plore the "growing social, political, and environ­ mental challenges the world faces."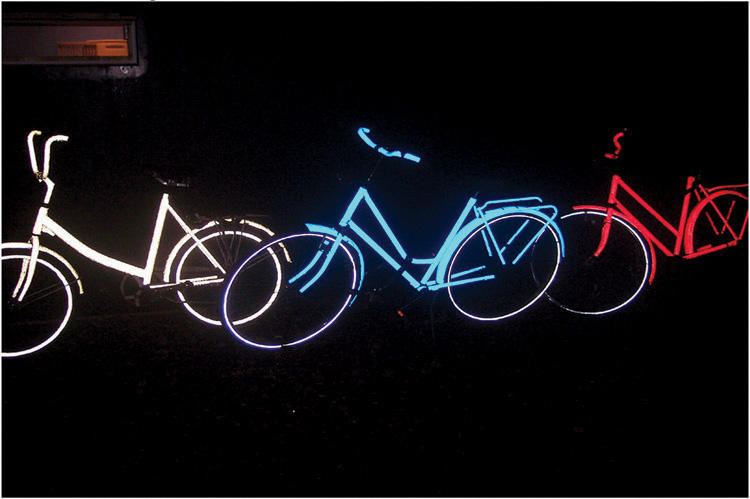 Accompanying events include a symposium on art and ecology organized by the RSA (London) and Latitudes (Barcelona) and a film series overseen by British curator Mark Nash. A jury that includes Charles Esche and Geeta Kapur will hand out three prizes (with a combined to­ tal of $50,000) at the opening ceremony.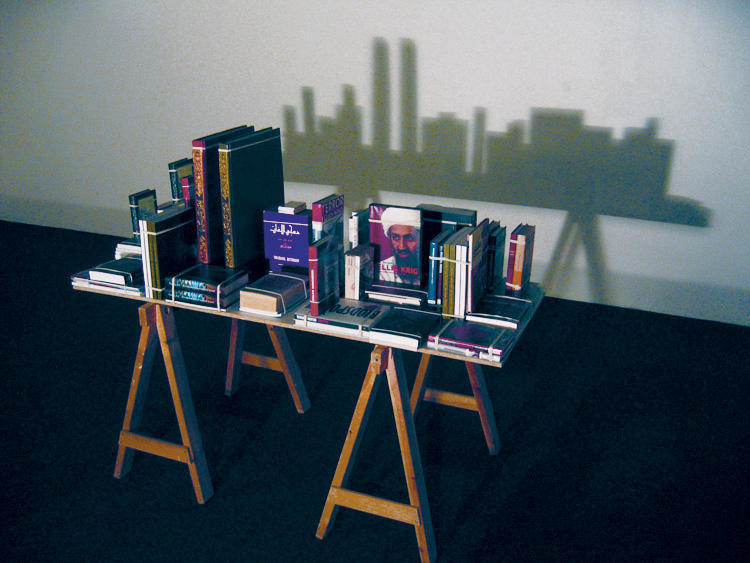 Mindful of the dire lack of funds for art pro­duction in the region, biennial director Hoor Al Qasimi is aiming later this year to create a separate, permanent fund for commissioning new work.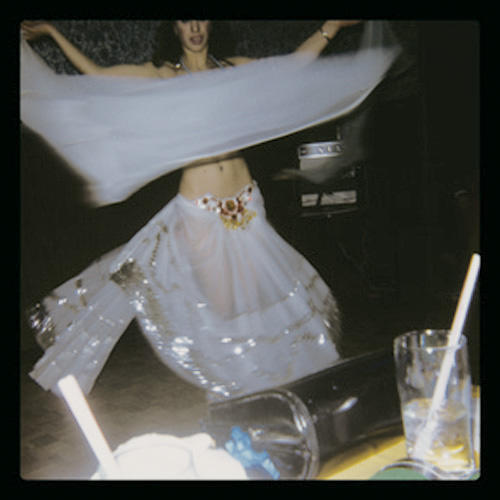 Cairo
Re-orient Occidentalism, or the West in Egyptian Eyes
Viennoise Hotel
May 13-27, 2007
Bringing together twenty Egyptian artists span­ning several generations, disciplines, and approaches to tackle the legacy of Orientalist dis­course by subversively exchanging the object of inquiry is no mean task. This spring, long­ time Cairo gallerist Karim Francis (of Espace Karim Francis) has set his sights on just that goal. The objective of the exhibition is to "trans­mit and communicate current Egyptian visions on the theme, and raise questions regarding ambiguous complexities in the sociocultural rapport between East and West." Francis gath­ered various artists for a six-­month period of weekly discussions around the topic and the exhibition, out of which meetings the title of the show, contents of the catalogue, choice of exhibition space, and various artists' propos­als were generated. The show will take place in the Viennoise Hotel, an old unused downtown hotel that has played host to many art events over the past six years. Re-­Orient is expected to travel to various European capitals in 2008, where the theme will undoubtedly generate new resonances and spark dialogue. Artists involved include Adel El Siwi, Amal Kenawy, Hani Rashed, Hazem El Mestikawy, Hazem Taha Hussein, Heba Farid, Hisham El Zeiny, Huda Lutfy, Islam Zahr, Khaled Hafez, Lara Baladi, Ahmed Nosseir, Mohamed Abla, Mo­ hamed Taman, Nader Sadek, Nermine El An­sary, Sabah Naim, Shady El Noshokaty, Sherif El Azma, and Wael Shawky, among others.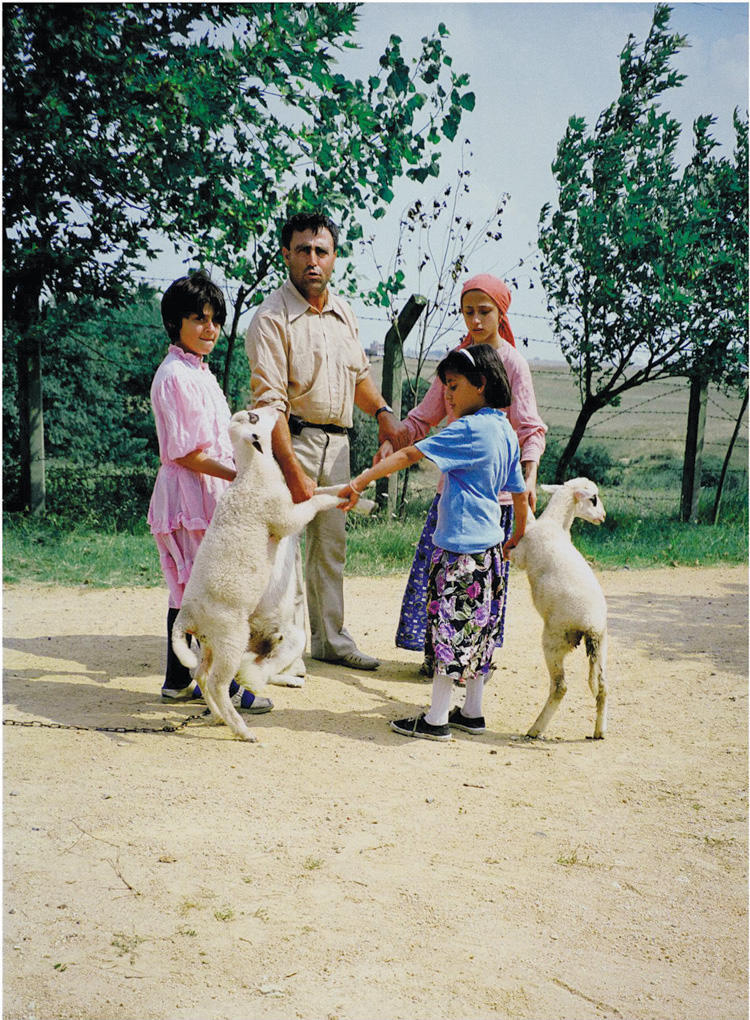 Venice
Venice Biennale
Various venues
June 10–Novermber 21, 2007
Little is known about the shape this year's Ven­ice Biennale is to take (for they usually keep us waiting until the last minute), though we have learned that director Robert Storr has made a special effort to engage Africa. With its Check­list project to be held in the Artiglierie space of the Arsenale, Storr has initiated a controversial open call for participation from Africans, loose­ly defined. A jury consisting of Meskerem As­ segued, Ekow Eshun, Lyle Ashton Harris, Kellie Jones, and Bisi Silva will preside, while the win­ning projects will be organized by artist Fernan­do Alvim and curator Simon Njami. In addition, a selection of works will be drawn from the Sin­dika Dokolo African Collection of Contempo­rary Art in Luanda, Angola. Whether this stands to be a truly inclusive, open process or, alterna­tively, another misconceived attempt to enga­ge the "international" in blanket terms (think the African pavilion Fault Lines in 2003), re­mains to be seen.
In the meantime, artists in the national pa­vilions include Guillermo Kuitca (Argentina), Tracey Emin (Britain), David Altmejd (Canada), David Maljkovic (Croatia), Sophie Calle (France), Isa Genzken (Germany), Aernout Mik (Holland), Steingrímur Eyfjör (Iceland), Masao Okabe (Ja­pan), Rafael Lozano-­Hemmer (Mexico), Willie Doherty (Northern Ireland), Gerard Byrne (Re­ public of Ireland), and Felix Gonzalez­-Torres (United States). The Cyprus Pavilion, for its part, will feature London-based Mustafa Hulusi (see Bidoun #7). Also look out for curator Vasif Kor­tun's handling of the Turkish Pavilion, showing artists Aydan Murtezaoglu and Hüseyin Bahri Alptekin. Murtezaoglu will present his Hip Activities, a series in which the political meets the banal in a photographic ode to displacement. Alpetkin's recent video series, incidents, enga­ges with the underworlds of globalization in his native Istanbul.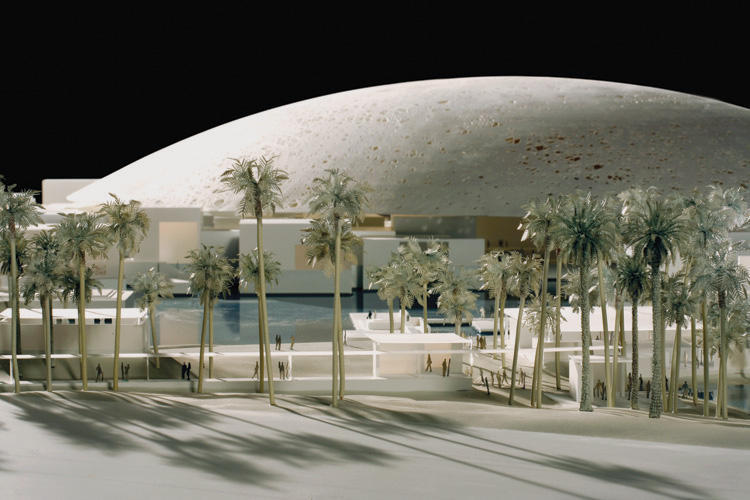 Abu Dhabi
Saadiyat Island
2012–2018
In late January of this year, Abu Dhabi announ­ced its plans for "one of the most ambitious urban and cultural development projects ever conceived." If all goes well, in 2012, the largest Guggenheim Museum in the world will open its doors on the twenty­-seven-­square-­kilometer Saadiyat Island, followed by a classical mu­seum, a performing arts center, a maritime mu­seum, a Sheikh Zayed museum, and a biennial park featuring nineteen pavilions designed by Khalid Al Najjar, Greg Lynn, David Adjaye, and Pei­-Zhu, among others. A starchitects' rave, the first four institutions are designed by Frank Gehry, Jean Nouvel, Zaha Hadid, and Tadao Ando, respectively.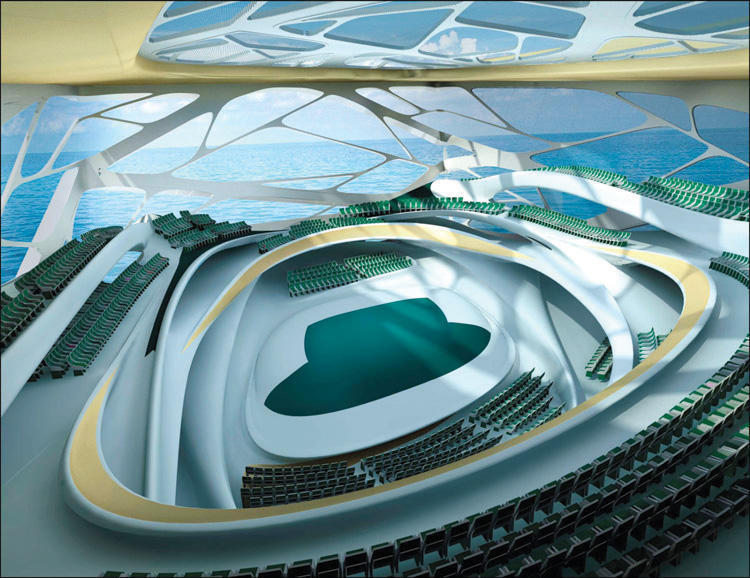 Unveiled at a multi-million-­dollar exhibition in Abu Dhabi put together by Guggenheim staff, the announcement has nonetheless been over­ shadowed internationally by the furor that has erupted in France over the proposed deal to in­volve French museums in lending roughly 300 objects — and the Louvre brand name — to Abu Dhabi, a package that reportedly could cost up to $908 million. While the long-­term loan of Louvre objects to the High Museum in Atlan­ta, Georgia, barely raised a murmur, the pro­posed Louvre Abu Dhabi has had some French museum staff and the media condemning a deal "that's about petrodollars and military relations."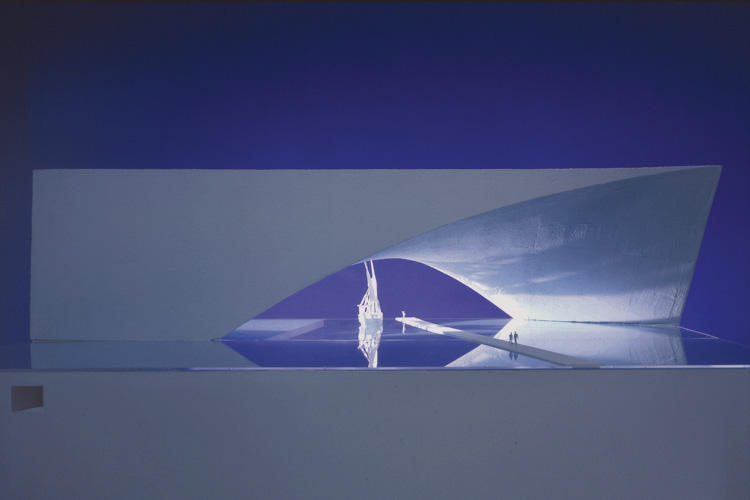 Abu Dhabi officials have confirmed that they will begin building collections for the museums "very soon," and that there will be a place for contemporary Arab art within the cultural quar­ter, although the details are hazy at this stage. There are also many challenges ahead when it comes to audience development, education, staffing, and curatorial policies.
But Abu Dhabi tends to talk in terms of fifteen­ to twenty­-year development plans — compared to Dubai's yesterdays — and its investment so far is some indication of the government's sincerity. Meanwhile, the architectural models themselves are worthy of several rhapsodic architecture theses. Hadid's contribution in par­ticular is a typically fluid structure that connects the Abu Dhabi skyline with the island and the sea beyond in one audacious sweep. Even if Abu Dhabi culturalists find it difficult to fill the five theaters — which have a combined seating capacity of 6,300 — the building itself could be a monument to visionary thinking.