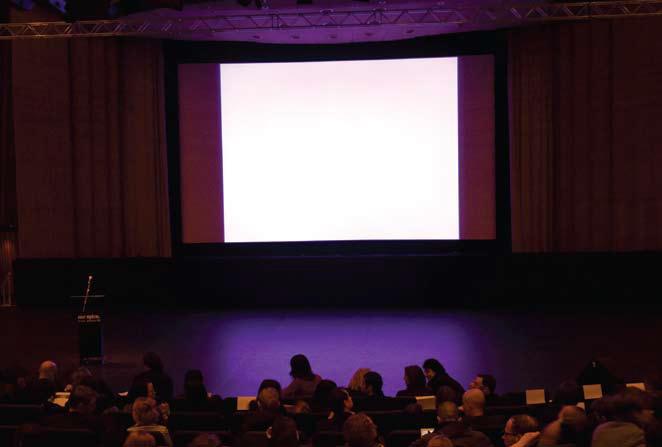 What is "new-media art"? The term itself seems obsolete, having been invoked for more than three decades to describe a broad, unwieldy swath of artistic practices vaguely related to technology. Still, the gap between what we tend to call new-media art and what's known as contemporary art often seems to be grounded in institutional politics. The arbiters of contemporary art tend to be averse to supporting projects that can be characterized as "technology for technology's sake." Of late, however, a number of museums have been blurring the borders between the two realms, including zKM in Karlsruhe, the Walker Art Center in Minneapolis, and the New Museum of Contemporary Art in New York.
And then there is Transmediale, a weeklong festival held each year in Berlin that has been documenting and promoting cross-disciplinary practices combining contemporary art and digital culture since 1997. Transmediale is one of the largest events in the new-media galaxy, including experimental music, video and software art, and performance.
I joined the Transmediale team for the event's January 2008 iteration as a guest curator. I suppose I was considered someone who had "been there" and "done that" when it came to new-media art; now I am more associated with the contemporary art field. My earliest curatorial work had involved projects dealing with new technologies, as well as with the open-source movement.
This year's festival was organized around the theme "Conspire…" My first thought was to produce a show in which the newness of the new-media work would be a subtle afterthought, rather than the focus of the experience, as was sometimes the case in past years. I was deeply aware that previous versions of Transmediale were often simply showcases for the most recent technological developments. I wanted to create an exhibition that would narrate fantastic worlds, with works that would capture the imaginations of audiences and engage with them as artworks, rather than stressing small-scale viewer interaction. I decided to think about the Latin root of the term conspire, literally meaning "to breathe together." This was, I thought, a poetic, even enigmatic, premise for a show such as this one, a call for a sort of collective, targeted action.
A conspiracy, that is. Bruno Latour, the French sociologist and father of "science studies," suggests that conspiracy theories — with their "knee-jerk disbelief" and "punctilious demand for proofs" — can be formidable tools of social critique. My exhibition would take Latour's premise and stretch it even further, considering conspiracy as a critical imaginative tool for rethinking the "known facts" that make up the world around us. I engaged artists who proposed interventions upon existing social, economic, and even artistic schemes. YKON, for example, a collective of artists who have been organizing summits for micronations — utopic communities of artists who found microscopic imaginary states and declare themselves governors. Or take French collective Bureau d'Études, with its intricate, Mark Lombardi-esque maps detailing networks of information and power; they were both revealing and inherently empowering in their breadth. There was, too, a light box built by Marko Peljhan that paid homage to his idol-artist, Velimir Khlebnikov, by restructuring the Russian futurist's famous time calculations as they are found in his poems.
Other artists I included dared to explore the unusual or even unheard-of potentialities of being, mind, and action. Their work literally stretched the senses. Kimsooja's To Breathe presented a large video screen, its colors shifting with the artist's increasingly intense breathing — forcing us to rethink the relationship between seeing and hearing. There was also Einar Thorsteinn's Non-visual Object, which consisted of the artist's voice embedded in a tall wooden box, inviting passersby to join him on a spiritual journey by initiating them into the secrets of the fourth and fifth dimensions.
Some works were rooted in great conspiracies of the past. Société Réaliste presented its agency for planning revolutions, inspired by nineteenth-century utopianists like Saint-Simon; Lene Berg provided an intimate account of cold-war propaganda; and Laurent Montaron presented a zeppelin slowly burning in his new video What remains is future.
Others looked forward. Tobias Putrih presented a proposal for a sculptural intervention inspired by Buckminster Fuller, as well as a series of collages that played on the trope of science versus fiction, while Alban Hajdinaj focused on an amateur Albanian geophysicist and his New Gravitational Theory of the Earth.
And finally, it was Mangelos, a deceased Croatian conceptual artist, who may have provided the most apt entry in the show. His poetic manifestos from the late 1970s, written over sheets of newspaper or painted on globes, expressed his theories on the crisis and death of art. His manifestos were a form of "functional thinking" — a concept inspired by a postwar world dominated by technology. Simply built from alphabets, mathematical proofs, and scientific theories, his art pieces frustrate meaning — a sort of functionalism without function. As absurdities, they seemed to capture perfectly the blurring — of disciplinary boundaries, of fixed meanings, of truths — that I was hoping for.