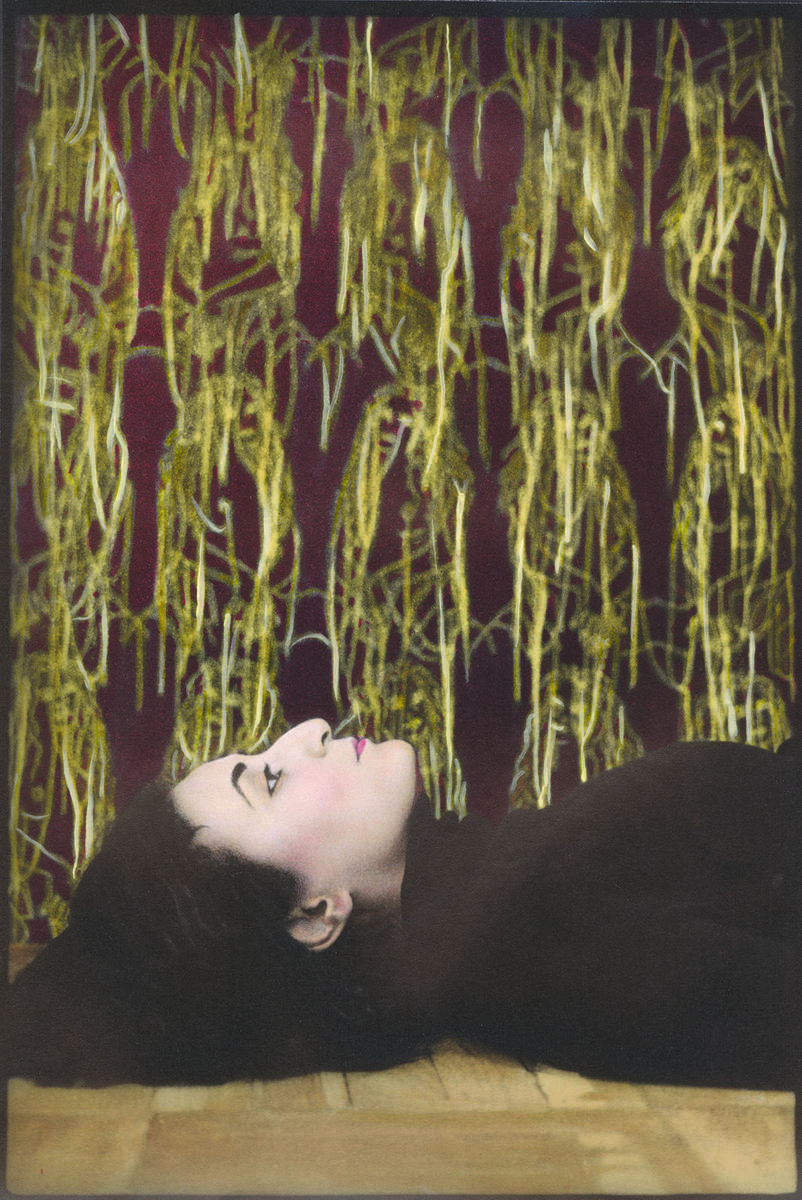 Dubai
Youssef Nabil
The Third Line
September 23–October 14, 2005
Maybe I was just having a bad day when I saw Youssef Nabil's portraits in Dubai. In the city that should accentuate the ghetto fabulous element in his work, Nabil's handpainted images seemed surprisingly melancholic. Lying back, her closed eyes reduced to a line of kohl, his regular muse Natacha Atlas appeared regretful rather than seductive. In Self Portrait with Laila Elwy, the actress is all big hair and pouting lips, but standing against a backdrop that shouts her name over and over, Nabil's work seemed to be about the sharper side of the double-edged sword of fame.
Of course The Third Line director-curators Claudia Cellini and Sunny Rahbar included some predictable selections in the show— such as a tedious portrait of Samira Said, and the familiar one of Fifi Abdou, with her fulsome cleavage and tiresomely suggestive hookah smoking. This was one of their first major shows in Dubai, which has an embryonic art market, a generally conservative climate for contemporary photography, and an unhealthy obsession with celebrity. (The city of just over one million residents has at least eight high profile, locally produced Hello-style magazines.) Sales of Nabil's work appeared to reflect the gallery's canny approach — and perhaps Dubai's rapidly changing demographic and its attitudes toward contemporary art.
Not that The Third Line's curatorial stance was entirely mercantile: alongside the undemanding kitsch were Nabil's more complex portraits of artists Susan Hefuna and Ghada Amer. A highlight was an early study of Youssra swimming in the Sinai, her immaculate face frowning at the camera and partly obscured by lapping waves, that left you longing for Nabil to turn his lens and brush to detailed seascapes.
In a way, Nabil's work is a perfect preamble for collecting in Dubai. Despite being sold in editions, the hand coloring on each blackand-white silver gelatin print renders them unique. His style — influenced by his friendship with the late Egyptian-Armenian photographer Van Leo — harks back to the golden age of Egyptian cinema and the glamorous shots taken by itinerant Cairene photographers in the 1940s and '50s. Lovingly detailed, the brushstrokes on the works are often slightly visible, giving the portraits a texture and adding to their cinematic drama.
Nabil's international career took off after his "discovery" by David LaChapelle. He worked as LaChapelle's assistant in New York in the early 1990s, and a few years later was Mario Testino's apprentice in Paris. He has since become a fixture in that terrain where art meets fashion; his recent subjects include Tracey Emin, John Waters and Nan Goldin. Nabil's exploration of the nature of celebrity and portraiture has now seen the artist turn to himself, with a series of narrative self-portraits. His show in Dubai was a stop-over before his debut solo exhibition in (and move to) New York.
Since its launch as an agency a few months ago, The Third Line has been trying to shake up Dubai's mini gallery scene, which tends to be characterized by folksy courtyards on the one hand and slick hotel-based venues on the other. In November, they opened their base, a large warehouse space in the industrial zone Al Quoz; upcoming shows include international Iranians-du-jour Farhad Moshiri and Laleh Khorramian. The gallery's place next to a couple of other artist-run spaces has had the local art crowd claiming it as the Gulf's Chelsea; despite the desperate hyperbole, The Third Line does have stand-out potential in the region.
The two directors also run a consultancy; their first commission is to build a corporate art collection for the Dubai International Financial Center, a new zone that aims to put the region's financial services on a par with established centers such as London, New York and Hong Kong. They have steered the Board away from the usual — calligraphy, landscape painting — to invest in commissioning a raft of contemporary work from the region. I hope other wealthy corporates in the region will be persuaded to follow suit.