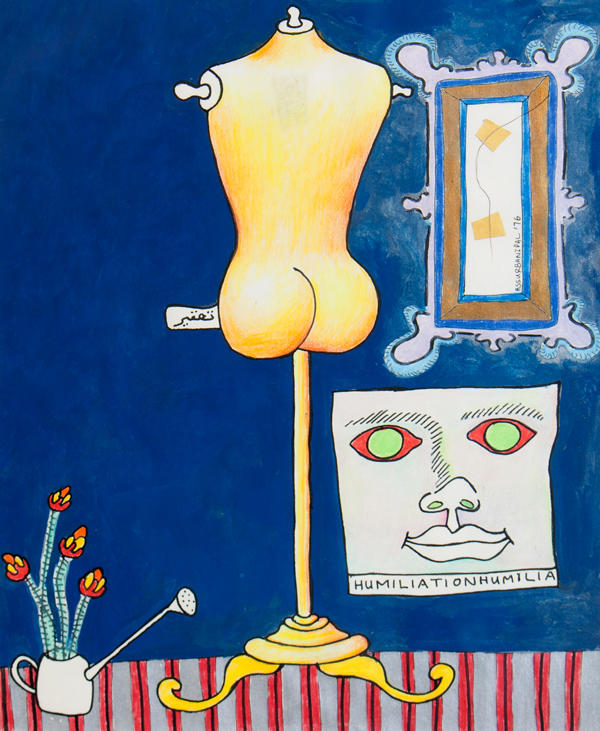 Organized by Negar Azimi and Sohrab Mohebbi
Carnegie Museum of Art
September 24 - April 2, 2023
Pittsburgh, PA
Over the past five decades, the artist Fereydoun Ave has assembled a singular collection of modern and contemporary Iranian art inflected by personal history, friendship, sensibility, and circumstance.
On returning to Iran in 1970 after years of education abroad, Ave worked as a curator and designer at Tehran's Iran-America Society Cultural Center, where he organized groundbreaking exhibitions of Iranian and international artists. Around the same time, he began collecting art with money borrowed from his grandmother. Ave continued to collect over the years, while he moved on to positions at consequential Tehran arts institutions, including the avant-garde Kargah-e Namayesh (Theater Workshop), where he worked as a resident designer, and the Zand Gallery, where he served as Artistic Director.
After the Iranian Revolution of 1979, Ave stayed behind as his compatriots left the country in droves. In the early 1980s he launched 13 Vanak, an independent art space for Iranian artists in a disused garden shed in an iconic Tehran square. The nimble and irreverent exhibitions at 13 Vanak attracted diverse audiences, including, on occasion, befuddled agents of the state. Though 13 Vanak closed in 2009, Ave has continued to mentor successive generations of artists both in and outside Iran.
The relationship between art and life, like history, is messy, impossible to tame. Ave, who is an accomplished artist himself, serves as both subject and cipher of this presentation, a vantage onto the fascinating—and contested—cultural history of 20th- and 21st-century Iran.
The Laal Collection presentation is curated by Bidoun's Negar Azimi and Sohrab Mohebbi, Bidoun Contributing Editor and the Kathe and Jim Patrinos Curator of the 58th Carnegie International.
The 58th Carnegie International is on view at the Carnegie Museum of Art from September 24, 2022 through April 2, 2023.
Artists: Shirin Aliabadi, Yaghoub Amaemehpich, Nazgol Ansarinia, Fereydoun Ave, Haydeh Ayazi, Ashurbanipal Babilla, Sadra Baniasadi, Leyly Matine-Daftary, Davood Emdadian, Parvaneh Etemadi, Monir Shahroudy Farmanfarmaian, Raana Farnoud, Shahab Fotouhi, Ali Golestaneh, Ramin Haerizadeh, Rokni Haerizadeh, Arash Hanaiae, Khosrow Hassanzadeh, Sirak Melkonian, Yashar Samimi Mofakham, Ardeshir Mohasses, Houman Mortazavi, Farhad Moshiri, Nikzad Nodjoumi, Iman Raad, Behjat Sadr, Bijan Saffari, Mostafa Sarabi, Mamali Shafahi, Reza Shafahi, Shideh Tami, Cy Twombly, Manouchehr Yektai, Hossein-Ali Zabehi.
A comprehensive book on Fereydoun Ave, edited by Negar Azimi, Aria Kasaei, and Sohrab Mohebbi, is in progress.
Negar Azimi and Sohrab Mohebbi would like to thank those who helped make this presentation possible: Aria Kasaei, Ali Bakhtiari, Rochanak Etemad, Omid Bonakdar, Shaqayeq Arabi, Hormoz Hematian, Alireza Fatehi, Balice Hertling Gallery, Dastan Gallery, Farhad Moshiri, Sohrab Mahdavi, and Roya Khadjavi-Heidari.