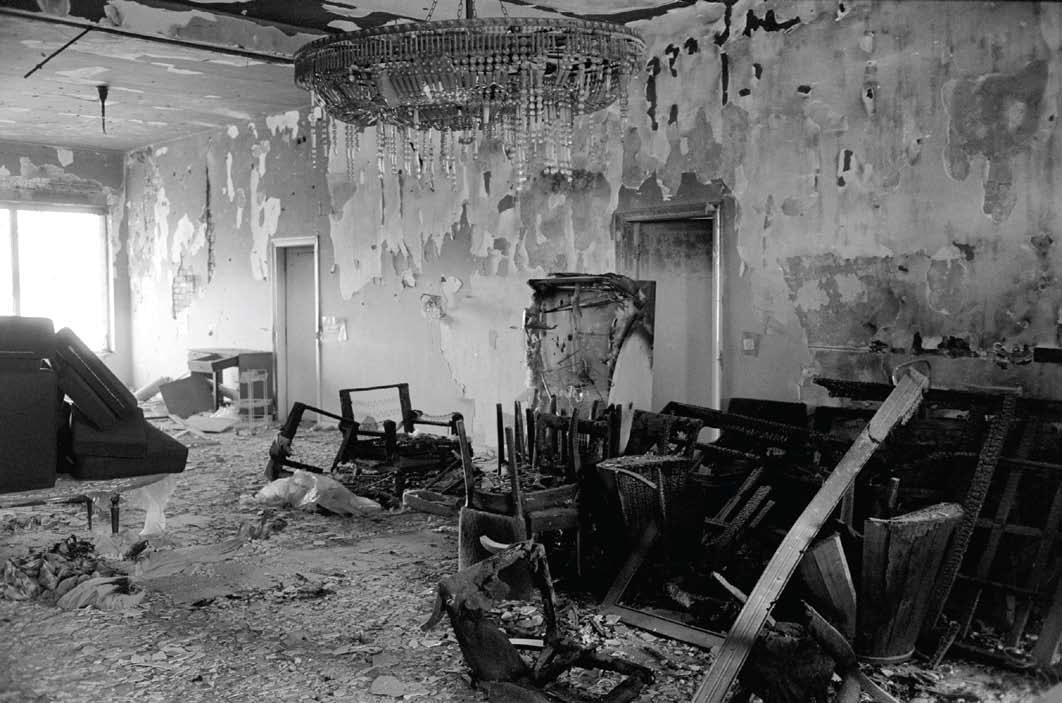 Madrid
Bahman Jalali
Fundació Antoni Tàpies
September 28–December 30, 2007
If the history of photography is entangled with that of modernity, it's not because photography aims to absorb the "real" world, but because it's an essential tool in defining what it means to be modern in the first place.
Plainly, no nation exists outside of an accompanying visual narrative. Taken together, events, facts, and images can rise to the status of legend. Fractions of a second, as captured on film, can become markers of a national history. This is to say that photography has come to yield a constitutive power. It tells a story. Contemporary Iran, that country famously marked by paradox and too often filtered through the lens of an unsophisticated news media, can retrace its history through Iranian photographer Bahman Jalali's oeuvre.
Cultural heritage, ethnographic documents, revolution, and war chronicles came together to tell an extraordinary tale at Jalali's recent exhibition at the Fundació Antoni Tàpies. Most of the images on display — there were five individual series — dated back to the early 1970s; altogether the show spanned some thirty years. An emphasis on the serial aspects of Jalali's work provided for a privileged insight into the recent history of his country, from an ancient city falling apart, a catalogue of vernacular architecture, and a band of fishermen's daily doings, to the Iranian Revolution and the Iran-Iraq War.
In addition to these classically documentary-like photographs, the exhibition included another series of work, which looked pictorial at first glance, superimposing various archival photographs drawn from Iran's Qajar period, creating fading pictures of sometimes indecipherable content. The result was dreamlike images that seemed at odds with the documentary, even clinical, tone and ethos of the rest of the photographs.
Such tension should never pass without comment, for such comment stands to be productive. If the images of the crumbling city of Bushehr could still evoke some sort of urgency to care, to react — or, to mention a very different set of images, if the shots of Khorramshahr claimed witness to the barbarity of the war fought between Iraq and Iran from 1980 to 1988 — then the last image in the exhibition introduced the quintessential paradigm of modern photographic practice: montage.
Though it may seem contradictory, manipulation, interpretation, transmission, and preservation — not an imagined objectivity — are the keys of photography as it is enacted by Jalali. His photography appears as a secular religion, in spite of a history that insists on its absolute scientific credentials. The more technological it gets, the more theological it becomes — a supposition incompatible with the dominant narrative of photojournalism as asserted by its practitioners, who often describe themselves as witnesses to truth.
This explains Jalali's refusal to see himself as a photojournalist. Having worked for a news agency based in Paris, he eventually decided to quit. He complained that the pictures his editors sought didn't satisfy him. "I wanted to capture pictures that defined the war for the future. Not photojournalistic images, but rather a kind of documentary photography." Such a photographer is an active agent in defining history, not simply a passive recipient.
This exhibition represented a potential case study in both the limitations of photographic practice and the freedom it affords individual photographers. In the end, the exhibit revealed that Jalali's contribution to photography in Iran is hardly limited to simply capturing images. His practice also encapsulates his activities as a teacher, editor, curator, and, perhaps most important, keeper of Iran's awesome photographic heritage. The accompanying catalogue text, for example, told us that the first cameras were introduced in Iran within eight years of their invention in France, by a curious mustachioed ruler named Nasir al-Din Shah.
Drawing from Jalali's own formidable collection, viewers could see the work of the Chehrenegar family, three generations of a Shiraz-based photography practice that Jalali and his wife, Rana Javadi, have been critical in preserving. Looking at Chehrenegar's images — at times capturing people's first encounters with the camera — and then at Jalali's images of the tumultuous revolution as played out on city streets, one realized that Jalali's relationship to photography is rich and varied and transcends mere issues of memory and representation. As with David Goldblatt's photographs of South Africa and Enrique Metinides's images of Mexico City, this show revealed how photography both informs and captures modernity as it is enacted on the national stage.