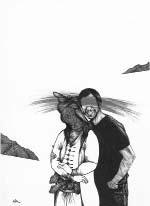 Tehran
Iran on Paper: The Last 10 Years
Aaran Gallery
February 26—March 5, 2009
As recently as a decade ago, curating as we know it didn't exist in Iran, and collecting was limited to a few rare individuals and singular endowments, which didn't much concern themselves with contemporary art. But contemporary art in Iran is finding its place — in international markets, in the catalogs of collectors and museums, and, increasingly, at home. Finally, a base exists from which we may host exhibits of contemporary art that defy hodgepodge curatorial mandates, that are conceptually, thematically, and aesthetically focused.
'Iran on Paper: The Last 10 Years' was a manifestation of this new maturity. Artist, gallerist, and longtime collector Fereydoun Ave invited two younger artists, Neda Razavipour and Vahid Sharifian, to occupy his space according to their own respective tastes. The two have both been preoccupied with drawing for some time; Razavipour, who commonly works in video and installation, recently produced a collection of drawings on the pages of a datebook, while Sharifian, whose practice centers around photography, has put together a handful of contemporary drawing exhibits in Tehran galleries in the recent past. Together, the two scoured Ave's vast collection (named Laal, after his late mother) for works on paper — a medium that has been increasingly marginalized over time, perhaps in part because of its guilelessness.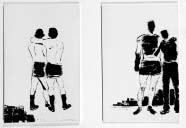 In hosting such an exhibit, Ave achieved several things at once: he brought attention to his collection; he introduced lesser-known artists to a broader community; and he made a statement about the continuing relevance of drawing. Most importantly, 'Iran on Paper' invited gallery owners to relinquish their singular fixation on the international market and pay more attention to the cultural value of less high-profile artistic practices manifest in Iran today. All this at a time when official cultural establishments in Iran are paying less attention to the arts, especially those of a contemporary nature.
'Iran on Paper: The Last 10 Years' was the first in a planned series of exhibitions to take place in various galleries, with different curators and visions, encouraging gallery owners to become cultural stakeholders rather than mere profiteers. Exhibiting previously collected works doesn't bring a return on investment, but this series of exhibits demands that galleries nonetheless shoulder the responsibility to show works usually organized by public or semi-public establishments such as museums. We can see this as one positive byproduct of a cultural scene under duress.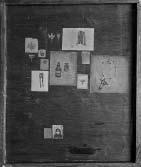 The diversity of approaches possible within this simplest of mediums was visible in the Aaran exhibition. It could be seen in the attention to detail by Azadeh Madani and Mohsen Ahmadvand; the perspicacity of Arash Sedaghat Kish, Mehdi Farhadian, and Shantia Zaker Ameli; the subtle humor of Farhad Fozouni; the freedom of Azadeh Razaghdoust, Morteza Zahedi, and Ala Dehghan; the lyricism of Shahriar Ahmadi and Behrouz Rae; the simplicity of Ghazal Khatibi; and the maturity of Ahmad Aminnazar, Ali Nasir, and Fereydoun Ave himself. Pieces in the show were treated as independent works, not simply prototypes for works in other media. Works by younger artists were hung next to those of their seasoned counterparts, providing a space where artists, collectors, gallery owners, and a younger generation could establish a visual dialogue.
Ave has announced that he is planning more exhibits to be drawn from his collection, including an exhibit of prints. These developments on the edge of the official cultural scene — artists curating shows, collectors presenting their works to the public, shows traveling as educational resources of sorts, younger artists emerging and finding incentive to pursue their practice — can only be a good thing.