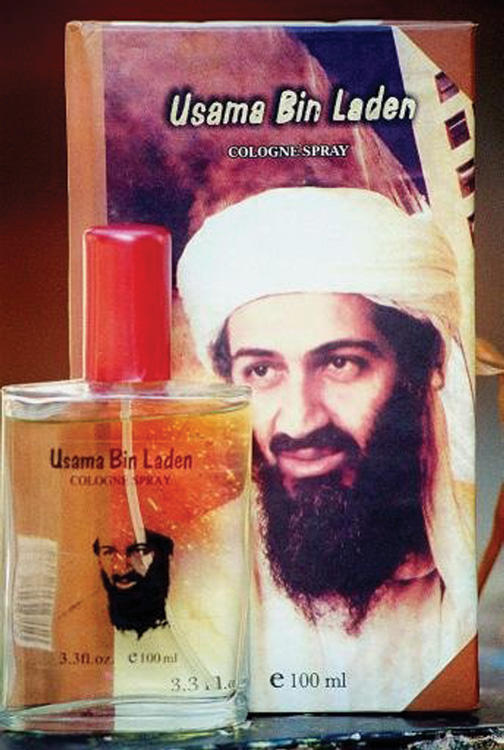 Historians of perfume have pointed out that brands were never as aggressively gendered as they are today, a trend that took hold in the 1980s when designer products for the mass market departed from age-old traditions and launched perfume lines that were marketed strictly and exclusively to one sex. Only in the late 1990s did the rise of unisex fragrances begin to question the primitive dualities that still dominate the current market. "Bin Laden" is a perfect example of this refreshing, if halting, return to sensuous ambiguity. Much like "Yeslam" (see Bidoun number 3), this fragrance can easily be worn by men and women alike. Not only does the product mark a return to the sumptuous subtleties of the 1970s in terms of gender politics, but with respect to aromatic delicacy it moves decidedly away from the recent string of "powder perfumes." (This trend culminated in "Giorgio Beverly Hills," which as some readers will remember, was banned from US restaurants due to its overriding, lingering stench.)
When queried by the press on this most recent in a long line of products cashing in on his name—T-shirts, thermoses, lighters, desktop air conditioners and YBA art installations—Osama Bin Laden was surprisingly evasive. "Everyone has his or her own unique tastes and body chemistry," he mumbled sheepishly. "What works for me and my friends may not work for you." This is true enough, but if readers need Bidoun's word on it, this perfume is definitely a winner. It bears the irresistible, boyish touch of Revlon's "Charlie" and the dexterity of Cacharel's 1978 "Anaïs Anaïs." Though it clearly lacks the latter's floral fragrance, its main notes are orange, tomato leaf, white birch and daffodil. Upon closer olfactory scrutiny, a touch of vanilla and apricot add an air of smooth sophistication, creating an unmistakable and luxurious fragrance.
"Bin Laden" is now available in bazaars across Afghanistan, Pakistan, Central Asia and parts of India. Negotiations with The Body Shop Inc have fallen through, following rumors of systematic testing on French and Italian hostages.