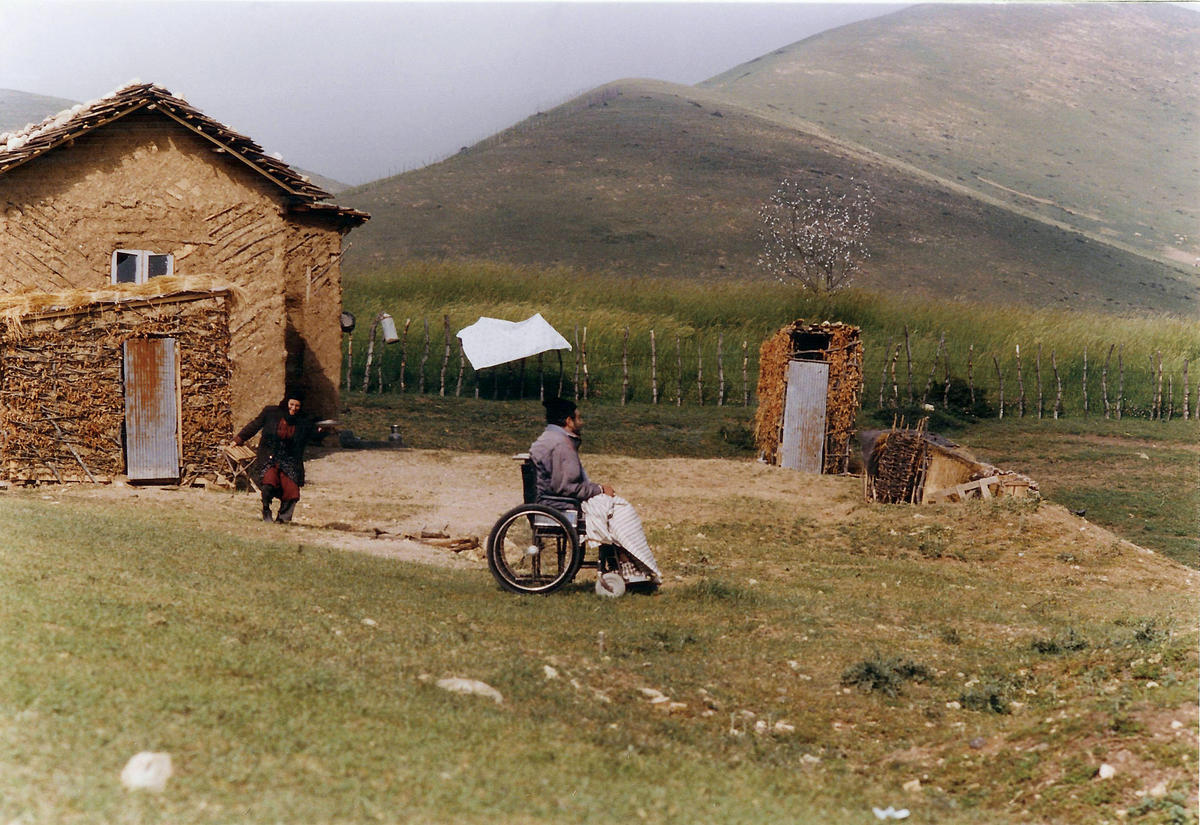 Fajr Film Festival
Tehran
February 1–11, 2005
February saw Tehran under several feet of snow, adding an interesting dimension to the city's already legendary traffic chaos. As visitors to the annual Fajr Film Festival battled their way between downtown screenings and filmmakers' parties in the northern suburbs, they could easily relate to Dr. Alam, the cynical, weary hero of Reza Mirkarimi's Too Faraway, Too Close, winner of the Crystal Simorgh for Best Film in the international festival's Iranian cinema competition.
Mirkarimi sends his urbane subject on a trip through spectacular desert scenery in search of his ill son, his familial priorities, and himself; other directors similarly had their protagonists meeting their fates or remedying their woes by heading out of the pollution for the pure open road and perceived wisdom of country folk. Appropriately, the film's cinematographer, Hamid Khozouie Abianeh, took the top lensing prize. For the famously critical local critic Kamyar Mohsenin, the film was a rare "bold cinema experience": he described the film to Bidoun as "an existential approach to finding the meaning of life after confronting the confusing concept of death." But for this reviewer, as with too many other films in this year's homegrown crop, Too Faraway, Too Close ultimately disappoints, spinning the doctor's denouement into a sentimental finale.
A winner at Cannes in 2000 for Under the Moonlight, Mirkarimi was one of a set of well-known directors that generally failed to live up to their established reputations. Former international festival darling Majid Majidi inevitably indulged in spiritual matters in his beautifully shot The Weeping Willow, the tale of a blind man who, by virtue of a miracle operation in Paris, is given the gift of sight, only to squander his life and long-suffering wife in self-pity. Predictably, given the nature of this onerous morality tale, he ends up struck down once more. Even more predictably, Majidi was awarded with the Best Director gong at the Awards ceremony.
Other established directors debuting new films in their hometown included Rasoul Sadre Ameli, of box office success I'm Taraneh, 15 fame; Kamal Tabrizi, whose controversial comedy The Lizard was a runaway hit in 2003; the reliable Azizollah Hamidnejhad, following last year's Tear of the Cold with Stony Blossoms, another tale of an outsider trying to navigate the ways of a village in mine-ridden border country; and Tahmineh Milani, who premiered Extra Woman, one of a series of heavy-handed, commercial films that typically come to a violent end, complete with multiple murders and suicides.
Sadre Ameli's I Saw Your Father Last Night, Aida, was the third film in the director's vaguely feminist exploration of teen angst, with classrooms full of girls in sneakers, fresh from their nose-job operations. Despite its urban, contemporary veneer, the film meandered and failed to convince. A Piece of Bread, Kamal Tabrizi's composed, mystical tale of a misjudged simpleton (played well by Reza Kianian, in what is becoming a bit of a signature role), fared better but could also do with a more stringent edit.
Other award-winners included Café Transit, Kambuzia Partovi's story of a widow — brilliantly underplayed by Fereshteeh Sadr Orafaie — trying to make a success of her roadstop diner, despite the best efforts of her late husband's family, and Kianoosh Ayari's Wake Up Arezu!, a disturbing, brave but awkward, fictional account of the Bam earthquake, shot in the devastated city just ten days after it was struck. Tunisian director Nacer Khamir, by virtue of his Iranian producer and locations, snuck in his latest chunk of sumptuous exotica, Bab'Aziz, and took home the Best Film in the Spiritual Cinema competition.
And so it was something of a relief to come across a small DV-shot gem that relied on character and ensemble play rather than spectacle and location. Bizhan Mirbaqeri's first feature, We Are All Fine, explores the effect on one extended family of losing a son to the West. Having emigrated several years previously, Jamshid failed to keep up his letters and phone calls, or send for his wife and daughter. One day out of the blue, a mystery friend returns from abroad with a request from Jamshid that his family make a home video for him. (So far, so contrived; but Mirbaqeri's light touch and the excellent performances pull the conceit off.) Cue each member of the family recording and re-recording their messages; the experience draws out all the tensions in the delicately balanced household, spinning their various relationships into an emotional vortex.
Despite the originality of We Are All Fine, Fajr generally plays it safe, the selection process opaque and a little unpredictable. So it's easy to see why alternative film screenings have become something of a diversion for both visitors and the local film community. This year's hot ticket was actress Niki Karimi's debut, One Night, a funky urban tale of a girl who spends a night hitching rides through an eerily deserted Tehran. Both Iron Island, by Mohammad Rasoul and renowned director Rakshan Bani-Etemad's Glameh, the reworking of a previous short, were excellent, yet screenings were confined to the festival market. Starring the legendary Ali Nassirian, the former is set on an abandoned tanker in the Gulf that's become its own self-contained community, taken over by a Captain who rents rooms to poor families. Nassirian's character is slowly revealed to be anything but the benevolent patriarch initially supposed, in a kind of allegory for the disappointments of the years since the revolution.
---
Berlinale
Berlin
February 10–20, 2005
From Fajr, the international Iranophiles decamped to Germany for a somewhat mixed year at the Berlinale, Berlin's annual film bash. Journalists keen to inject some drama into the proceedings homed in on two very different offerings from the Middle East: Massaker, included in the Panorama section, and Hani Abu Assad's feted Paradise Now. Playing in competition, the Palestinian director's portrait of two suicide bombers garnered more column inches than any other film, and went on to take four prizes, including the Audience Award and Best European Film; the director described his success to Bidoun as "a fine combination of recognition, political backing, and financial support." While it did have its shortcomings, Paradise Now is a milestone in cinema from the Arab world.
Massaker, a documentary by Monika Bergmann, Lokman Slim and Hermann Theissen, which took home the International Film Critics Association prize, is also groundbreaking work. This taut investigation looks into the psyche of six of the perpetrators of the 1982 Sabra and Shatila massacre, when an unknown number of unarmed Palestinian civilians living in Lebanon were killed over a period of two days. Massaker focuses on the rank and file members of the Lebanese Forces, the Christian militia who perpetrated the action with logistical support from the occupying Israeli army, exploring the links between the personal and political. The subjects are filmed individually, in stark and harshly lit rooms. By unflinchingly engaging with the actual killers, rather than the leaders or organizers, the film brings the horrifying details into sharp relief. There's no cathartic sentimental grief here, no attempt at harnessing historical tragedy for a specific political position; rather, Bergmann, et al, have engineered a face-off with the unspeakable. Giving us the testimonial of the perpetrators rather than the victims, Massaker somehow manages to portray the reality of the atrocity without justifying its occurrence; the film makes for highly uncomfortable viewing.
Bergmann, Slim, and Theissen hail from backgrounds in publishing and philosophy, journalism and film, respectively, but theirs is a fruitful collaboration. The camerawork is tight, investigative, and claustrophobic, insistently interrogating the bodies of the anonymous perpetrators while they speak candidly about the experience. Alternately horrifying and darkly fascinating, the film manages to straddle the thin line between investigation and voyeurism. Eschewing the traditional authoritative voiceover, the filmmakers provide political, historical, or psychological context and background through the interviews themselves. Thus, we're never allowed to assume a specific vantage point, and the truth is questioned continually. Ingeniously, Massaker makes us, the viewers, accomplices on one level or another.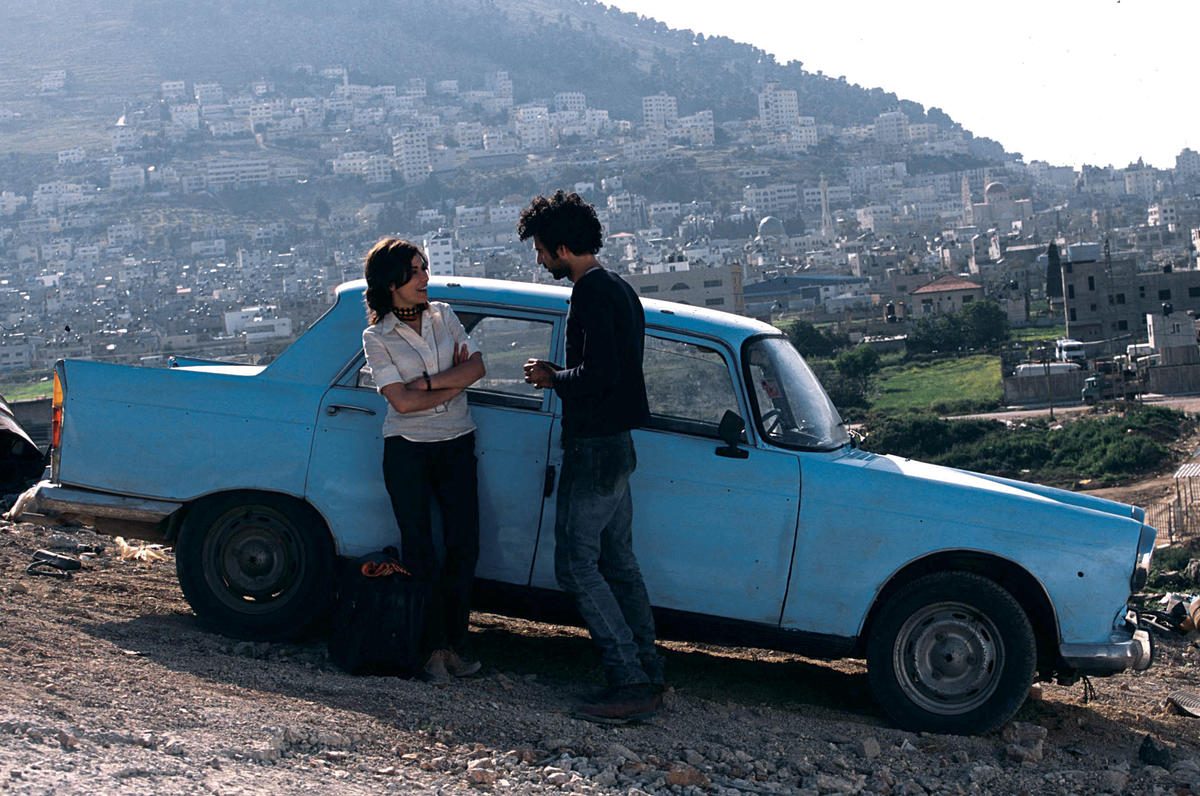 Both Massaker and Paradise Now can be seen as part of a trend in analyzing politically motivated violence through pushing the audience to "imagine the unimaginable"; perhaps this is in part a response to the continual bloody images of twenty-four-hour news cycle. Directors seem to be relying on suggestion in order to conjure up the appropriate images in the audience's collective memory, whether working in documentary or fiction.
Hani Abu Assad's subtle approach to the thorniest of current issues won him a standing ovation at Paradise Now's world premiere, paeans of praise from the critics, and distribution deals in Europe and the US. The film narrates the story of three days in the lives of two young men from Nablus who've been chosen for a suicide-bombing mission to Tel Aviv. Shot in Nablus in the summer of 2004, the movie was made in a city occupied and under curfew — certainly one reason why it conveys the proximity of events so well. Khaled (Ali Suleiman) and Said (Kais Nashif) have temporary jobs as car mechanics when they meet Suha (Lubna Azabal), a well-off educated returnee with a Moroccan accent, who works for a human rights organization.
Young theater actor Kais Nashif is impressive in his cinematic debut. Trapped in a web spun from the threads of his narrow, lifeless existence, the unspoken farewells to his family, and his own inability to show his feelings, Said's iron mask — in part attributed to being the son of a collaborator — rarely seems to fall. Generally, Hani Abu Assad outlines rather than defines his characters, and his young cast shines as a result.
The cinematography comes into its own as Said and Khaled prepare for their mission in the underground halls of an old tile factory. The ceremony — the rituals of washing, shaving, praying, dressing, eating their last supper — is shown in detail; the scenes seem to mark both the allure and the delusion of the situation. Winningly, the director adds a shot or two of black humor: The process of videotaping Khaled's martyrdom statement, for example, turns into slapstick when the camera jams and he's forced to repeat his declaration.
At other times, Abu Assad's approach seems unnecessarily obvious. Said's (slow motion) hesitation when he catches sight of an Israeli child as he waits at an Israeli bus stop, for example, stinks of attempting to present Palestinians in an acceptably humane guise for western audiences. From Abu Assad's previous work, this critic would have expected a more radical narrative: Perhaps its restraint is due in part to the clout exercised by the film's French, Dutch, and German producers, or is simply indicative of the conditions under which it was shot. Nevertheless, Hani Abu Assad has smartly succeeded in bringing a controversial aspect of Palestinian reality onto the big screen.
---
Emirates Film Competition
Abu Dhabi
Abu Dhabi's Emirates Film Competition (EFC) is an annual experiment in bringing Emirati reality to the cinema: Students and young filmmakers compete for prizes with short films that reflect local themes. Now in its fourth year, the festival is certainly growing — with around 140 homegrown films plus sidebars of another 100 international films. Festival director Masoud Amralla Al Ali treats his mainly Emirati audience to the most diverse selection of artistic short filmmaking from around the globe. The Arabic Panorama lacked the controversy and big names of previous years but there were some real finds — in particular Moroccan Laila Marrakchi's 200 Dirhams and Egyptian Tamer Al Said's On a Monday. And the work of the young Amman Filmmakers Cooperative showed how much could be done with original storylines.
Among the students, there were well-shot efforts, such as Jassim Mohammed Al Salty's portrait of a fish market, and great ideas, such as Nada Salem's world of dodgy DVD sellers, Pirates of Karama. But the young filmmakers — especially the women who shined in the first and second sessions of the festival — have yet to make good on their early promise. Among the student offerings, there was plenty of quantity but little quality; good editing, acting, and direction did exist — but just rarely in the same film. The head of the jury, Moroccan producer-director Mohammed Asli, advised the young directors to seek inspiration in their own cultures, rather than attempting to create gangsta or Egyptian drama rip-offs.
Still, there are some older filmmakers that get stronger each year. Waleed Al Shehhi's Signs of the Dead showed that the director is fast developing a distinctive, intense style that maximizes the natural drama of the desert; fellow Ras Al Khaimah director Abdullah Hassan Ahmed is another serious filmmaker showing huge promise; scriptwriter Ibrahim Al Mulla and director Omar Ibrahim produced a polished tale of writer's block in An Ordinary Day; and Saleh Mohamed Al Marzouqi had a fresh approach in his animation The Arrest Night of Al Nbata, a kind of Emirates-style South Park.
For these young filmmakers, the EFC acts as a kind of intensive, annual bout of film school. And in this year's compelling, at times abstruse Poetic Cinema program, Amralla pushed his students to the limit. But they came, and stayed, even packing the cinema for their own films.
And herein lies a problem: With local audiences willing to overlook proletarian approaches for the rare pleasure of seeing themselves on the silver screen, and as yet no graduate film courses, and few honest critics, how are local filmmakers to learn to up their game? Hani Al Shaibani, who works for the Dubai Police but is better known in film circles for his award-winning Jawhara, closed the EFC for the first time with an Emirati feature, Dream. The story of a young crew's attempts to make a film, layered with the action of the film itself, it was a good effort in producing something close to home. Judged by international standards, it fell a little flat and failed to take advantage of some spectacular desert scenery; but the standing-room-only audience loved every minute, laughing at local in-jokes and whistling and cheering in recognition of themselves.